A VMware CTK file contains a list of all the changes made to a VMware virtual machine (VM) since it was last backed up. 
Block states are tracked with update sequence numbers. The CTK file is much smaller than the VMDK block it describes. CTK files grow in proportion with the number of VMDK blocks. If the virtual disk size remains static, so will the CTK file size. There is only one CTK file in the virtual machine disk (VMDK) files, with the file extension .ctk.
CTK change tracking files exist on all VMs where VMware's Changed Block Tracking (CBT) technology is enabled. CBT relies on the CTK file's information to back up only the VM information blocks that have changed, instead of backing up the entire VM.
VMware snapshots also contain a .ctk file. Orphaned CTK files, left over erroneously from snapshots, can cause errors during backup.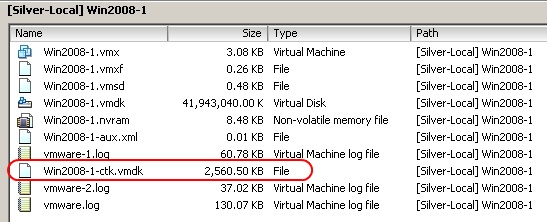 Contributor(s): Meredith Courtemanche
This was last updated in March 2013
Email Alerts
Register now to receive SearchVMware.com-related news, tips and more, delivered to your inbox.
By submitting you agree to receive email from TechTarget and its partners. If you reside outside of the United States, you consent to having your personal data transferred to and processed in the United States.
Privacy
Do you have something to add to this definition? Let us know.
Send your comments to
techterms@whatis.com