VMware Converter definition
VMware Converter is a utility that facilitates the creation of VMware virtual machines from physical systems or virtual machines associated with third-party vendors. The utility also enables migration of virtual machines between VMware platforms from a centralized management console.
Download tips on addressing the unique challenges of storage in VMware environments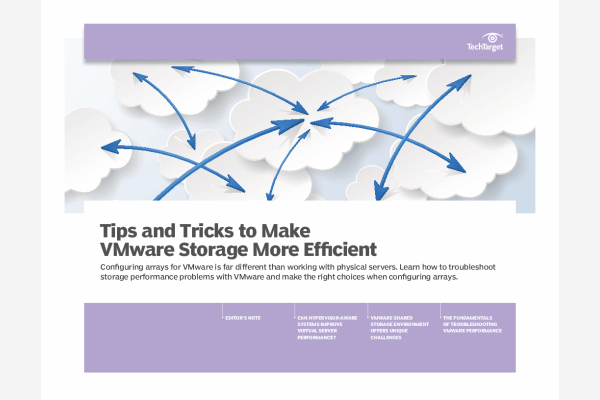 Configuring arrays for VMware is far different than working with physical servers. Explore this technical handbook to learn how to troubleshoot storage performance problems with VMware and make the right choices when configuring arrays.
By submitting your email address, you agree to receive emails regarding relevant topic offers from TechTarget and its partners. You can withdraw your consent at any time. Contact TechTarget at 275 Grove Street, Newton, MA.
You also agree that your personal information may be transferred and processed in the United States, and that you have read and agree to the Terms of Use and the Privacy Policy.

With VMware Converter 3, the latest version of the utility, multiple simultaneous conversions are possible without source server downtime or OS (operating system) on the source machine. Conversion speed is enhanced by sector-based copying. The complexity of the process is minimized by user-friendly wizards. If desired, conversions and migrations can be controlled from remote locations.
VMware converter 3 is designed for use with physical machines running 64-bit Windows XP or Windows 2003, WinNT SP4+ or Windows 2000. Supported source third-party images include Microsoft Virtual Server, Microsoft Virtual PC, Symantec Backup Exec System Recovery, Norton Ghost 10 and Norton Save & Restore. Supported VMware virtual machines include VMware Workstation, VMware GSX Server, VMware Player, VMware Server and VMware ESX Server.
Continue Reading About VMware Converter