VMware ESXi is an operating system-independent hypervisor based on the VMkernel operating system interfacing with agents that run atop it. ESXi is the exclusive hypervisor for VMware vSphere 5.x licenses.
Download tips on addressing the unique challenges of storage in VMware environments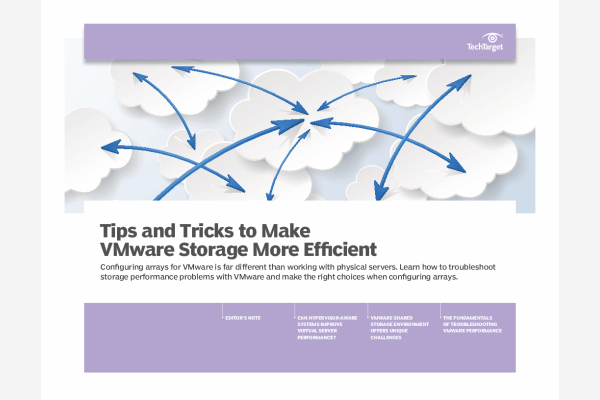 Configuring arrays for VMware is far different than working with physical servers. Explore this technical handbook to learn how to troubleshoot storage performance problems with VMware and make the right choices when configuring arrays.
By submitting your email address, you agree to receive emails regarding relevant topic offers from TechTarget and its partners. You can withdraw your consent at any time. Contact TechTarget at 275 Grove Street, Newton, MA.
You also agree that your personal information may be transferred and processed in the United States, and that you have read and agree to the Terms of Use and the Privacy Policy.

VMware describes an ESXi system as similar to a stateless compute node. State information can be uploaded from a saved configuration file. ESXi's VMkernel interfaces directly with VMware agents and approved third-party modules. Virtualization administrators can configure VMware ESXi through its console or the VMware vSphere Client and check VMware's Hardware Compatibility List for approved, supported hardware on which to install ESXi.
ESX licensees can choose to deploy ESXi instead of ESX on any given server. Before ESXi, VMware offered the ESX hypervisor, which comprised more parts, such as the console operating system (OS) and firewall. Remote command line interfaces and system management standards replace the service console functions. The hypervisor supports Auto Deploy and custom image creation, along with other tools that were not included in ESX. VMware reports that ESXi's architecture occupies less than 150 MB of space -- 32 MB of on-disk space -- as compared to about 2 GB with ESX.
A stripped-down free version of ESXi, VMware vSphere Hypervisor, supports fewer features. While it cannot communicate with vCenter Server, it does virtualize servers with options like thin provisioning.
Continue Reading About VMware ESXi