Essential Guide
How to choose the right VMware type-2 hypervisor
A comprehensive collection of articles, videos and more, hand-picked by our editors
VMware Fusion
VMware Fusion is virtualization software from VMware that can run more than 150 multiple guest operating systems (OS), such as Windows or Linux, as virtual machines (VMs) inside a Macintosh OS.
FROM THE ESSENTIAL GUIDE:
VMware Fusion is software from VMware that virtualizes Windows operating systems (OSes) and application programs so they can be used on Macintosh computers.
Tips, Tricks and Techniques To Make VMware Storage More Efficient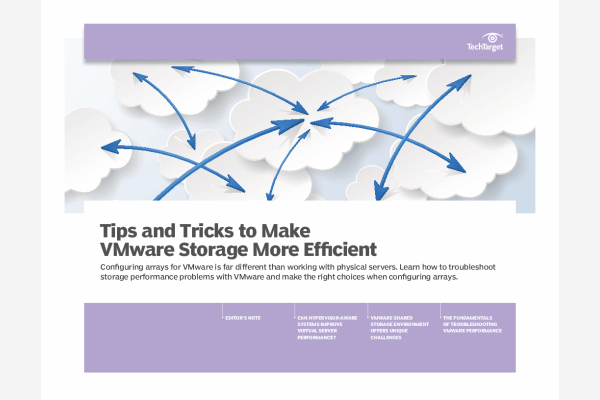 Configuring arrays for VMware is far different than working with physical servers. Explore this technical handbook to learn how to troubleshoot storage performance problems with VMware and make the right choices when configuring arrays.
By submitting your personal information, you agree to receive emails regarding relevant products and special offers from TechTarget and its partners. You also agree that your personal information may be transferred and processed in the United States, and that you have read and agree to the Terms of Use and the Privacy Policy.

VMware Fusion features Unity view, which allows a virtualized application to appear in the Macintosh OS desktop as if it was a native application.
VMware released VMware Fusion 1.0 on August 6, 2007. VMware released the most recent version, VMware Fusion 6.0, on September 3, 2013, to become compatible with Macintosh's latest operating system, Mavericks.
Continue Reading About VMware Fusion