Essential Guide
Avoiding downtime with VMware Fault Tolerance and High Availability
A comprehensive collection of articles, videos and more, hand-picked by our editors
VMware HA (High Availability)
VMware HA (High Availability) is a utility that eliminates the need for dedicated standby hardware and software in a virtualized environment ... (Continued)
FROM THE ESSENTIAL GUIDE:
VMware HA (High Availability) is a utility that eliminates the need for dedicated standby hardware and software in a virtualized environment. The utility is part of a virtualization suite called VMware Infrastructure 3. In IT (information technology), the term high availability refers to a system or component that is continuously operational for long periods.
Download tips on addressing the unique challenges of storage in VMware environments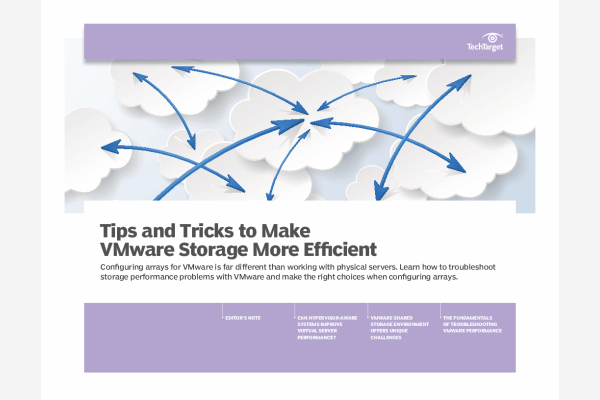 Configuring arrays for VMware is far different than working with physical servers. Explore this technical handbook to learn how to troubleshoot storage performance problems with VMware and make the right choices when configuring arrays.
By submitting your personal information, you agree to receive emails regarding relevant products and special offers from TechTarget and its partners. You also agree that your personal information may be transferred and processed in the United States, and that you have read and agree to the Terms of Use and the Privacy Policy.

Key features of VMware HA include:
Proactive monitoring of all physical servers and virtual machines
Automatic detection of server failure
Rapid restart of virtual machines affected by server failure
Optimal placement of virtual machines after server failure
Scalable availability up to 32 nodes across multiple servers
VMware, a subsidiary of EMC Corporation, is headquartered in Palo Alto, California and provides virtualization software for x86-compatible computers.
Continue Reading About VMware HA (High Availability)