VMware Orchestrator definition
VMware Orchestrator is a free vCenter feature that helps automate VMware vCloud Suite, vSphere and other virtualization management system processes.
Download tips on addressing the unique challenges of storage in VMware environments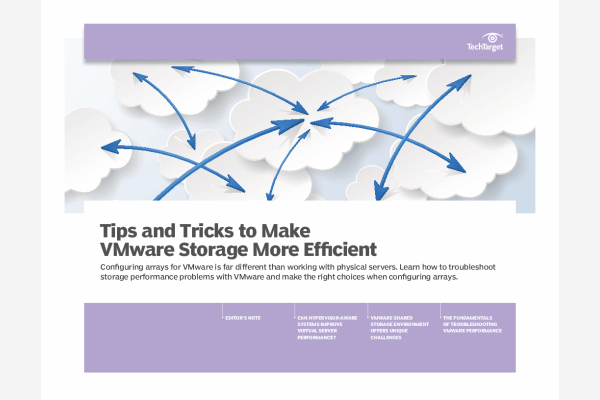 Configuring arrays for VMware is far different than working with physical servers. Explore this technical handbook to learn how to troubleshoot storage performance problems with VMware and make the right choices when configuring arrays.
By submitting your email address, you agree to receive emails regarding relevant topic offers from TechTarget and its partners. You can withdraw your consent at any time. Contact TechTarget at 275 Grove Street, Newton, MA.
You also agree that your personal information may be transferred and processed in the United States, and that you have read and agree to the Terms of Use and the Privacy Policy.

Orchestrator's workflow engine can be used to automate bulk operations and create workflow processes for integrating existing third-party tools. It can be installed as a virtual appliance, a vCenter add-on or a standalone product for a Windows Server installation.
Orchestrator, which can be accessed through a Web or client interface, comes with a library of pre-defined workflows as well as a drag-and-drop tool for linking actions together to produce customized workflows to meet specific business needs. Orchestrator also permits the use of custom scripts for more advanced workflow and application program interface (API) design.
Continue Reading About VMware Orchestrator