VMware Project NEE
Project NEE, which stands for Next-generation Education Environment, is VMware's multi-tenant, cloud service that provides an online learning environment.
Looking for something else?
TECHNOLOGIES

PRODUCTS
Project NEE (Next-generation Education Environment) is VMware's multi-tenant cloud service for online learning.
Download tips on addressing the unique challenges of storage in VMware environments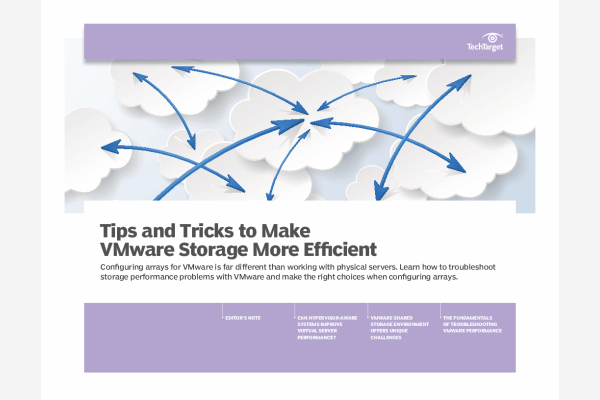 Configuring arrays for VMware is far different than working with physical servers. Explore this technical handbook to learn how to troubleshoot storage performance problems with VMware and make the right choices when configuring arrays.
By submitting your personal information, you agree to receive emails regarding relevant products and special offers from TechTarget and its partners. You also agree that your personal information may be transferred and processed in the United States, and that you have read and agree to the Terms of Use and the Privacy Policy.

Currently, VMware uses Project NEE to set up virtual computer labs at events like VMworld to deliver product training. Project NEE is not available for general use at this time, but VMware is planning a limited public beta test for a small segment of its customers and partners who have expressed interest in using the service for professional development.
Project NEE users can access virtual machines (VMs) and accompanying lesson materials with a Web browser that fully supports HTML 5. Most of the Project NEE platform is written in the Groovy programming language using the Grails Web application framework. It uses RabbitMQ for messaging between components and can work with PostgreSQL or MongoDB databases, depending on the needs of the application components.
Project NEE uses VMware's vCloud Suite to provide the service.
Continue Reading About VMware Project NEE