Definition
VMware vSAN (formerly Virtual SAN)
VMware vSAN (VMware Virtual SAN) is a storage feature integrated in the vSphere 5.5 and above kernel that pools disk space from multiple ESXi hosts. VMware vSAN works much like a hyper-converged architecture, except that it allows for the use of commodity hardware.

Download this free guide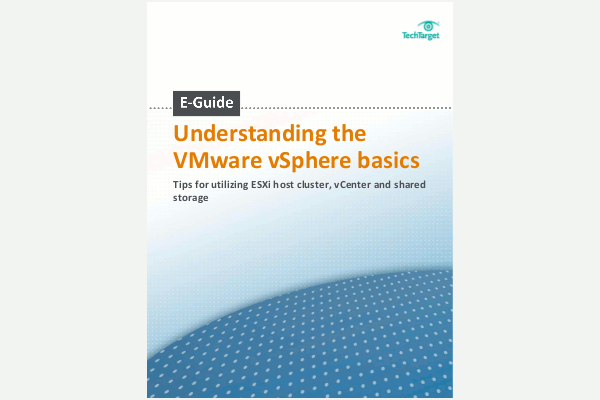 Download: Exclusive guide to VMware vSphere basics
Access this valuable resource to explore expert tips and advice for successfully utilizing ESXi host cluster, vCenter and shared storage.
By submitting your personal information, you agree that TechTarget and its partners may contact you regarding relevant content, products and special offers.
You also agree that your personal information may be transferred and processed in the United States, and that you have read and agree to the Terms of Use and the Privacy Policy.
A vSAN is essentially a cluster of VMware hosts. Each host requires at least one SSD and one HDD, although most hosts typically use a larger numbers of disks. VSAN combines the host's storage resources into a single, high-performance, shared data store that all the hosts in the cluster can use.
The vSphere Web Client manages vSAN. Because vSAN is a native component, it does not require additional software, and the user can enable it with a few clicks.
When it was first released, VMware called this feature Virtual SAN, but has since shorted the name to just vSAN.
How vSAN works
The distributed architecture of the software-defined storage feature in VMware vSAN enables the parameters of the storage policy to be enforced despite changes in virtual machine (VM) workload demands or hardware or network failures. The user defines the storage requirements, such as performance and availability, for VMs on a VMware vSAN cluster.
The vSphere 5.5 Web Client handles cluster administration and storage policy implementation.
Important features
VMware vSAN includes a number of key features, although the feature set varies slightly depending on the license type. One of vSAN's key features is flash optimization. VSAN 6.6 claims to deliver 50% more IOPS than previous versions of vSAN because of the way it minimizes storage latency through the use of server-side flash devices.
Another key feature is the potential for nondisruptive scaling. It's possible to scale vSAN up by adding disks or to scale out by adding cluster nodes. A vSAN cluster can include between 2 and 64 nodes, unless it is a stretched cluster, in which case the limit is 31 nodes. It's also possible to stretch clusters across geographic areas.
The vSAN 6.6 Enterprise license offers deduplication and compression capabilities designed to achieve high levels of data reduction with minimal CPU overhead.
Both Advanced and Enterprise licenses support erasure coded storage, and they can be configured with either single or double parity protection against disk failures.
The Enterprise license also offers support for storage quality of service (QoS), which enables an administrator to place limits on the number of IOPS that specific VMs can consume.
VSAN 6.6 also includes a new health check feature that enables the administrator to see at a glance whether or not the vSAN is healthy. If it detects a problem, the health check helps diagnose the issue.
Comparison of vSAN editions (Standard, Advanced, Enterprise)
VMware has five different licensing options for vSAN. The three primary options are Standard, Advanced and Enterprise. There are also two licensing options intended for remote office/branch office (ROBO) environments known as ROBO Standard and ROBO Advanced.
Each of these licensing options provides standard features such as Storage Policy-Based Management, Flash read/write caching and support for vSphere Replication.
On top of the standard feature set, the Advanced and ROBO Advanced licenses add support for deduplication, compression, and RAID 5 and RAID 6 erasure coding.
The Enterprise edition has all the capabilities of the Advanced product, but also adds support for stretched clusters and QoS IOPS limits.
Main competitors and partners
The main competitor to VMware vSAN is Microsoft Storage Spaces Direct, which is built into Hyper-V. Storage Spaces Direct provides similar storage pooling across cluster nodes, and Hyper-V VMs can use the resulting storage space.
While not direct competitors, hyper-converged infrastructure appliances -- from vendors such as Nutanix -- offer a similar ability to pool local host storage. VMware markets vSAN as part of its hyper-converged software stack, which also includes vSphere and vCenter. Dell Technologies sells hyper-converged infrastructure appliances -- including VxRail -- that include VMware's vSAN software.
Several other hardware vendors sell appliances advertised as compatible with vSAN or that come preinstalled with VMware's software, called vSAN Ready Nodes.
Continue Reading About VMware vSAN (formerly Virtual SAN)