VMware Virtual SMP (Symmetric Multi-Processing) definition
VMware Virtual SMP is a utility that allows a single virtual machine to use two or more processors simultaneously. The utility is part of a virtualization suite called VMware Infrastructure 3. The term virtual SMP or VSMP refers to a method of SMP (Symmetric Multi-Processing) in which two or more virtual processors are mapped inside a single virtual machine or partition.
Download tips on addressing the unique challenges of storage in VMware environments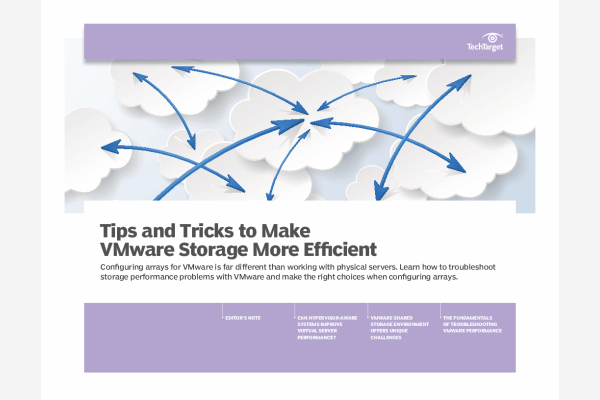 Configuring arrays for VMware is far different than working with physical servers. Explore this technical handbook to learn how to troubleshoot storage performance problems with VMware and make the right choices when configuring arrays.
By submitting your email address, you agree to receive emails regarding relevant topic offers from TechTarget and its partners. You can withdraw your consent at any time. Contact TechTarget at 275 Grove Street, Newton, MA.
You also agree that your personal information may be transferred and processed in the United States, and that you have read and agree to the Terms of Use and the Privacy Policy.

Virtual SMP requires VMware ESX Server. Key features include:
Ability to run resource-intensive applications in virtual machines
Creation of realistic environments for software testing and deployment
Use of up to four physical processors by a single virtual machine
Synchronous scheduling of non-idle virtual processors
Built-in controls to minimize system overhead
Automatic shifting of tasks among available processors to balance workload
VMware, a subsidiary of EMC Corporation, is headquartered in Palo Alto, California and provides virtualization software for x86-compatible computers.
Continue Reading About VMware Virtual SMP (Symmetric Multi-Processing)