Definition
VMware resource pool
A VMware resource pool is the aggregated physical compute hardware -- CPU and memory, as well as other components -- allocated to virtual machines (VMs) in a VMware virtual infrastructure.

Download this free guide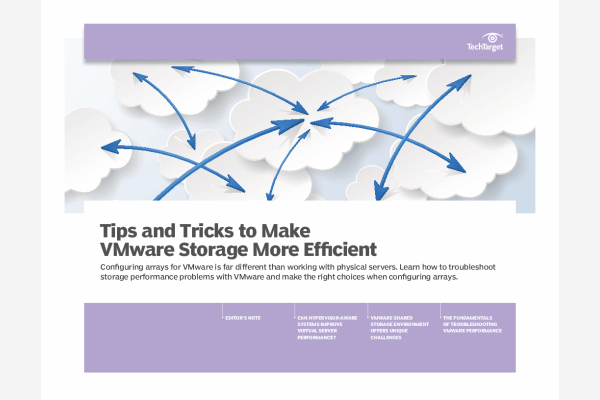 Download tips on addressing the unique challenges of storage in VMware environments
Managing storage in VMware environments is far different than traditional, physical infrastructures. Explore this technical handbook to learn how to troubleshoot common storage performance problems with VMware, and access additional insights on how effectively configure storage arrays.
By submitting your email address, you agree to receive emails regarding relevant topic offers from TechTarget and its partners. You can withdraw your consent at any time. Contact TechTarget at 275 Grove Street, Newton, MA.
You also agree that your personal information may be transferred and processed in the United States, and that you have read and agree to the Terms of Use and the Privacy Policy.

A VMware administrator can choose how much of each physical resource to allocate to each new VM and allocate portions of these logical resource groups to various users, add and remove compute resources, or reorganize pools as required.
The VMware resource pool manages and optimizes these physical resources for virtual systems within a VMware Distributed Resource Scheduler (DRS) cluster. With memory overcommit, more resources can be allocated to VMs than are physically available. Changes that occur in one resource pool will not affect other, unrelated resource pools VMware administrators create.
Administrators use VMware vCenter, third-party tools, or command-line interfaces (CLI) like esxtop to monitor resource pools, gathering detailed CPU and memory statistics. End users should not make changes to the resource pools.
Citrix and Microsoft also create resource pools in their respective virtualization environments.
Continue Reading About VMware resource pool
Dig Deeper on DRS and DPM