VMware template definition
A VMware template (also callled a golden image) is a perfect, model copy of a virtual machine (VM) from which an administrator can clone, convert or deploy more virtual machines.
Download tips on addressing the unique challenges of storage in VMware environments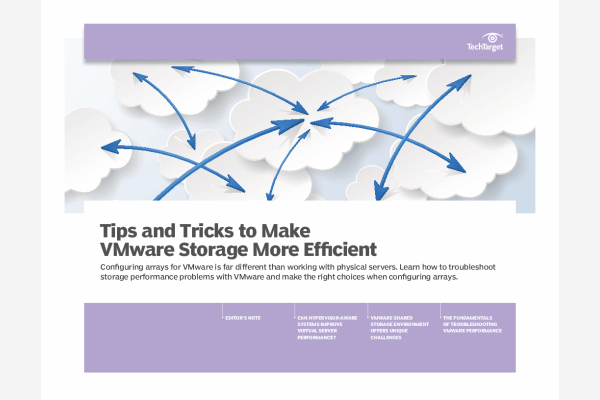 Configuring arrays for VMware is far different than working with physical servers. Explore this technical handbook to learn how to troubleshoot storage performance problems with VMware and make the right choices when configuring arrays.
By submitting your email address, you agree to receive emails regarding relevant topic offers from TechTarget and its partners. You can withdraw your consent at any time. Contact TechTarget at 275 Grove Street, Newton, MA.
You also agree that your personal information may be transferred and processed in the United States, and that you have read and agree to the Terms of Use and the Privacy Policy.

A VMware template includes the virtual machine's virtual disks and settings from its .vmx configuration file, managed with permissions. Templates save time and avoid errors when configuring settings and other choices to create new Windows or Linux server VMs. They can also be used as long-term in-place backups of VMs, and to ensure consistent VMs are created and deployed across a company. A VMware template cannot be operated without reverting it to a virtual machine (VM).
See also: VMware snapshot
Continue Reading About VMware template