VMware vCenter Mobile Access (VMware vCMA) definition
VMware vCenter Mobile Access (VMware vCMA) is a virtual appliance used by administrators to manage a data center from a mobile device such as a smartphone or tablet.
Download tips on addressing the unique challenges of storage in VMware environments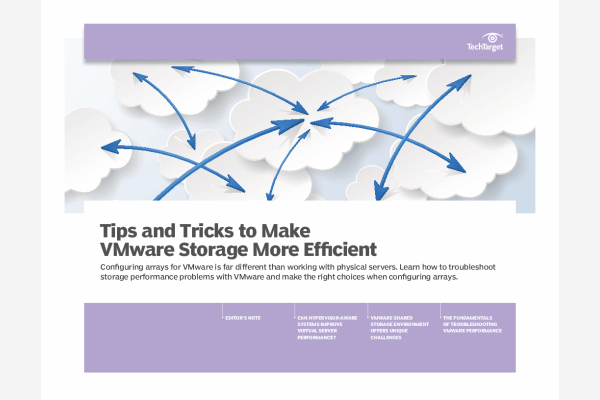 Configuring arrays for VMware is far different than working with physical servers. Explore this technical handbook to learn how to troubleshoot storage performance problems with VMware and make the right choices when configuring arrays.
By submitting your email address, you agree to receive emails regarding relevant topic offers from TechTarget and its partners. You can withdraw your consent at any time. Contact TechTarget at 275 Grove Street, Newton, MA.
You also agree that your personal information may be transferred and processed in the United States, and that you have read and agree to the Terms of Use and the Privacy Policy.

vCMA, which is the required backend for the vSphere Client for iPad, allows administrators to perform management, monitoring or troubleshooting activities in their VMware environments from anywhere in the world. The vCMA is an unsupported fling, but there is a community forum dedicated to vCMA and vSphere Client for iPad. Users can post questions and receive unofficial support from VMware employees and other users.
Users can download the most recent copy of vCMA from the VMware Labs website. It's available as either an Open Virtualization Format (OVF) file that can be imported into vCenter Server, or as a zipped file with the virtual machine (VM) already deployed.
Continue Reading About VMware vCenter Mobile Access (VMware vCMA)