Definition
VMware vSphere
VMware vSphere is the brand name for VMware's suite of virtualization products. Before 2009, VMware vSphere was known as VMware Infrastructure.
VMware vSphere, which is a necessary component of the vCloud Suite for cloud computing, includes
VMware ESXi - abstracts processor, memory, storage, and other resources into multiple virtual machines (VMs).
VMware vCenter Server - central control point for data center services such as access control, performance monitoring and alarm management.
VMware vSphere Client - allows users to remotely connect to ESXi or vCenter Server from any Windows PC.
VMware vSphere Web Client - allows users to remotely connect to vCenter Server from a variety of Web browsers and operating systems (OSes).
VMware vSphere SDKs - provides interfaces for accessing vSphere components.
vSphere Virtual Machine File System (VMFS) - provides a high performance cluster file system for ESXi VMs.
vSphere Virtual SMP - allows a single virtual machine to use multiple physical processors at the same time.
vSphere vMotion - allows live migration for powered-on virtual machines in the same data center.
vSphere Storage vMotion - allows virtual disks or configuration files to be moved to a new data store while a VM is running.
vSphere High Availability (HA) - allows virtual machines to be restarted on other available servers.
vSphere Distributed Resource Scheduler (DRS) - divides and balances computing capacity for VMs dynamically across collections of hardware resources.
vSphere Storage DRS - divides and balances storage capacity and I/O across collections of data stores dynamically.
vSphere Fault Tolerance - provides continuous availability.
vSphere Distributed Switch (VDS) - allows VMs to maintain network configurations as the VMs migrate across multiple hosts.
Host Profiles - provides a way to create user-defined configuration policies.
VMware vSphere undergoes periodic revisions and updates to add features, modifications to the application program interface (API) and changes to the ESXi Shell. VMware offers vSphere in several kits (Essentials and Essentials Plus) and editions (Standard, Enterprise and Enterprise Plus.)

Download this free guide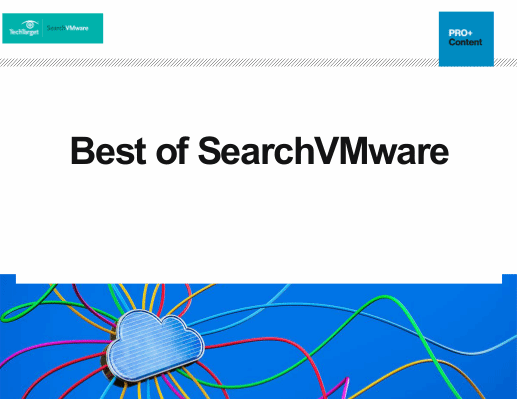 Expert Guide: Most popular articles from SearchVMware.com
Due to popular demand, our editors have put together this complimentary 32-page guide highlighting some of our most visited and most useful – as chosen by your peers – SearchVMware articles so far this year.
By submitting your personal information, you agree that TechTarget and its partners may contact you regarding relevant content, products and special offers.
You also agree that your personal information may be transferred and processed in the United States, and that you have read and agree to the Terms of Use and the Privacy Policy.
Continue Reading About VMware vSphere