Definition
VMware vSphere 6
VSphere 6 is an enterprise-class virtualization platform developed and supported by VMware.
The actual virtualization layer -- the hypervisor -- is handled through the VMware ESXi component. A distributed resource scheduler (DRS) can match compute resources to business needs and turn host systems on or off as compute demands change. VMotion can move live virtual machine (VM) workloads between systems and clusters across long distances with latencies up to 100 miliseconds (ms) round trip time (RTT), an capability called long-distance vMotion. VSphere 6 runs Hadoop workloads, allowing VM instances to participate in big data processing clusters. VMs can also leverage the compute benefits of hardware-accelerated graphics installed on servers.

Download this free guide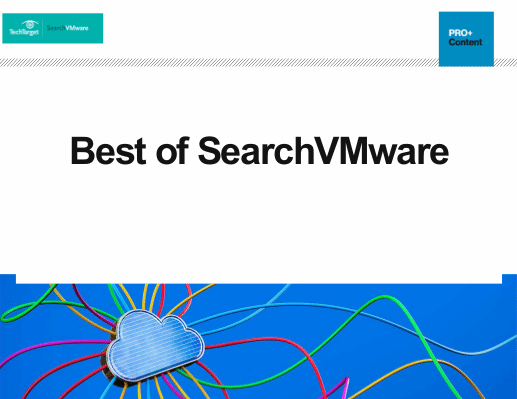 Expert Guide: Most popular articles from SearchVMware.com
Due to popular demand, our editors have put together this complimentary 32-page guide highlighting some of our most visited and most useful – as chosen by your peers – SearchVMware articles so far this year.
By submitting your personal information, you agree that TechTarget and its partners may contact you regarding relevant content, products and special offers.
You also agree that your personal information may be transferred and processed in the United States, and that you have read and agree to the Terms of Use and the Privacy Policy.
VSphere 6 supports several important resilience capabilities including high availability (HA), which can quickly restart VMs on other hosts within a server cluster when a hardware or operating system problem is detected. A fault tolerance feature can ensure continued workload availability by creating redundant instances of important workloads to other servers and automatically failing over to a synchronized copy when problems are detected. Data protection capabilities can provide data backups with deduplication and native replication across sites.
VSphere 6 offers a management dashboard, which tracks key performance metrics, performs compute and storage analytics; estimates capacity demands; suggests possible optimizations; and reports potential risks in concert with related VMware tools, including vCenter Server and VMware Orchestrator. Administrators can also automatically deploy and patch systems, configure new hosts according to established profiles, and work with VM templates, vApps and ISO images from a centralized content library.
Storage uses the VMware vStorage Virtual Machine File System (VMFS) and features include storage DRS, allowing VM placement and performance balancing based on factors like storage capacity and required storage I/O latency. Virtual Volumes allow the storage resources on SAN and NAS devices to be VM-aware. Storage vMotion can move storage content non-disruptively between storage platforms locally or across the WAN, and thin provisioning can set aside storage capacity without the need to have that physical storage present. Storage can be policy-driven, so administrators can prioritize storage access to more important VMs. Local read caching accelerates VM application performance by caching storage content to the host server.
VSphere 6 offers network I/O control allowing administrators to configure VM access to the network based on established policies, while a distributed switch capability centralizes control of network provisioning and administration across the entire data center.
VSphere 6 also supports storage APIs, allowing third-party software vendors to provide storage awareness, data protection and improved performance for virtualized environments. The Enterprise Plus version of vSphere 6 supports APIs for OpenStack integration which is an increasingly popular platform for cloud deployment.
VSphere 6 is available in Standard, Enterprise and Enterprise Plus editions and licensing costs, which vary depending on the edition, are assessed per-physical processor. Requirements for vCenter Server and service and support (SnS) contracts are additional. VSphere 6 is typically deployed within enterprise data centers by IT staff members who are often formally certified by VMware in vSphere installation, configuration and administration practices.
Continue Reading About VMware vSphere 6
Dig Deeper on VMware basics