VMware vSphere Mobile Watchlist definition
The VMware vSphere Mobile Watchlist is a free application that allows vSphere administrators with an Android or iOS smartphone to monitor virtual machines (VMs) and correct issues on an infrastructure running vSphere 5.0 and higher.
Download tips on addressing the unique challenges of storage in VMware environments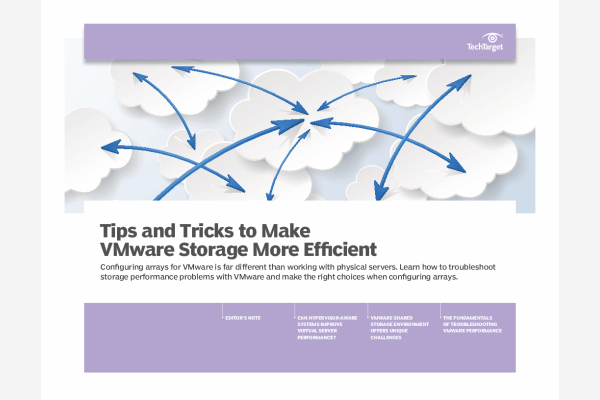 Configuring arrays for VMware is far different than working with physical servers. Explore this technical handbook to learn how to troubleshoot storage performance problems with VMware and make the right choices when configuring arrays.
By submitting your email address, you agree to receive emails regarding relevant topic offers from TechTarget and its partners. You can withdraw your consent at any time. Contact TechTarget at 275 Grove Street, Newton, MA.
You also agree that your personal information may be transferred and processed in the United States, and that you have read and agree to the Terms of Use and the Privacy Policy.

The Watchlist app allows administrators to group important VMs and hosts into categories, set up alerts and look up and bookmark troubleshooting articles from the VMware knowledge base site. Clicking on a VM or host in the app displays the condition, configuration setup, resource usage, health and screenshot of the VM console. The administrator can use the app to perform tasks such as power on/off, resume/suspend, connect/disconnect or restart.
Mobile Watchlist was released in February 2014 and is currently available for Android (4.0.3 and up) or iOS (7.0 or later) devices.
ITKE asks:

How do you monitor your VMware environment remotely?