VMware vSphere Update Manager (VUM) definition
VMware vSphere Update Manager (VUM) is software for automating patch management.
Download tips on addressing the unique challenges of storage in VMware environments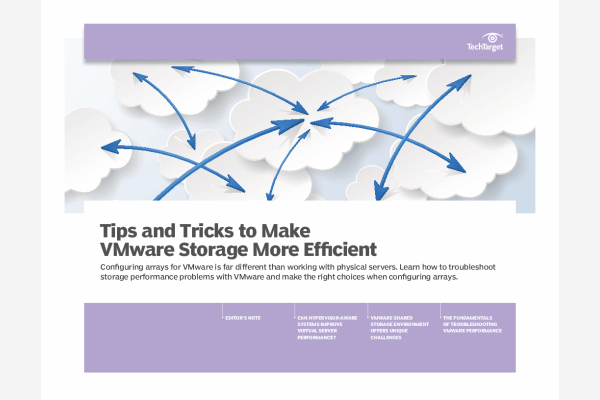 Configuring arrays for VMware is far different than working with physical servers. Explore this technical handbook to learn how to troubleshoot storage performance problems with VMware and make the right choices when configuring arrays.
By submitting your email address, you agree to receive emails regarding relevant topic offers from TechTarget and its partners. You can withdraw your consent at any time. Contact TechTarget at 275 Grove Street, Newton, MA.
You also agree that your personal information may be transferred and processed in the United States, and that you have read and agree to the Terms of Use and the Privacy Policy.

vSphere Update Manager works in conjunction with vSphere Distributed Resource Scheduler (DRS) to provide non-disruptive host patching for clusters. VUM works with vSphere DRS to put hosts in maintenance mode one by one and migrates live virtual machines (VMs) to other hosts while patching. VUM can also be used to manage vSphere versions, install and update third-party ESX/ESXi host extensions and upgrade virtual appliances, VMware Tools and virtual machine hardware.
VUM requires a connection to vCenter Server and must be registered with vCenter Server to function.