Essential Guide
VMworld 2014 conference coverage
A comprehensive collection of articles, videos and more, hand-picked by our editors
VMware vSphere Web Client plug-in
VMware vSphere Web Client plug-ins are programs that either come from VMware itself or from third-party developers and partners to extend the vSphere Web Client with custom menu selections and toolbar icons that provide access to custom capabilities and external functionality.
FROM THE ESSENTIAL GUIDE:
VMware vSphere Web Client plug-in is the program that extends the user interface for VMware vSphere Web Client to a browser.
Download tips on addressing the unique challenges of storage in VMware environments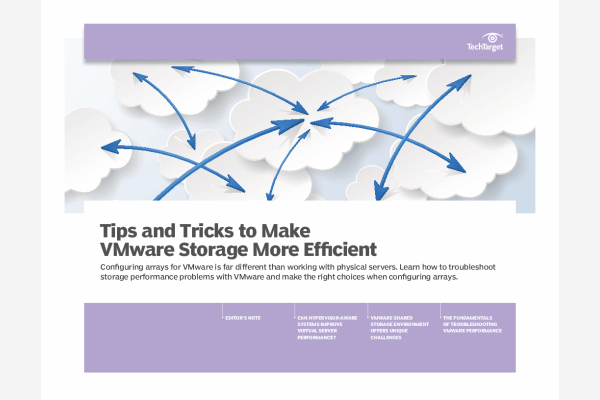 Configuring arrays for VMware is far different than working with physical servers. Explore this technical handbook to learn how to troubleshoot storage performance problems with VMware and make the right choices when configuring arrays.
By submitting your personal information, you agree to receive emails regarding relevant products and special offers from TechTarget and its partners. You also agree that your personal information may be transferred and processed in the United States, and that you have read and agree to the Terms of Use and the Privacy Policy.

The VMware vSphere Web Client allows an administrator to connect to a vCenter Server system and manage a vSphere environment. VMware allows third-party developers and partners to customize plug-ins with product-specific toolbars and icons.
Popular VMware vSphere Web Client plug-ins include:
vCenter Orchestrator - a vCenter feature that helps automate VMware vCloud Suite, vSphere and other virtualization management system processes.
Client Integration Plug-in - provides access to a virtual machine's console in the vSphere Web Client, as well as access to other vSphere infrastructure tasks.
vSphere Storage Appliance - transforms local storage into a shared storage resource that runs virtualized applications.
Cisco Nexus 1000v - a Cisco NX-OS virtual switch for multi-tenant services.
Continue Reading About VMware vSphere Web Client plug-in