hardware virtualization
Hardware virtualization is a method of providing circuits in a processor and memory controller to support two or more operating systems on a single computer or server... (Continued)
Looking for something else?
TECHNOLOGIES
Hardware virtualization is when the virtual machine manager is embedded in the circuits of a hardware component instead of being called up from a third-party software application. The virtual machine manager is called a hypervisor.
Download tips on addressing the unique challenges of storage in VMware environments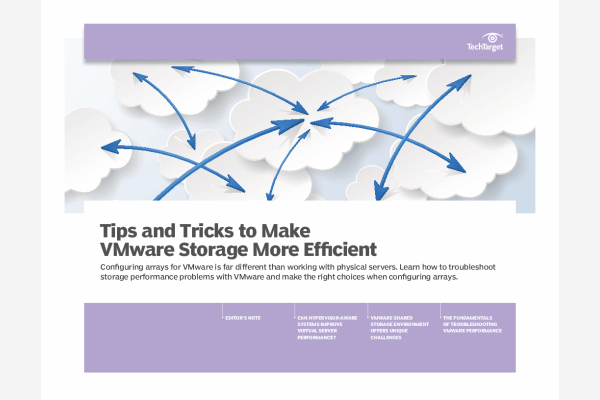 Configuring arrays for VMware is far different than working with physical servers. Explore this technical handbook to learn how to troubleshoot storage performance problems with VMware and make the right choices when configuring arrays.
By submitting your personal information, you agree to receive emails regarding relevant products and special offers from TechTarget and its partners. You also agree that your personal information may be transferred and processed in the United States, and that you have read and agree to the Terms of Use and the Privacy Policy.

The job of the hypervisor is to control processor, memory and other firmware resources. The hypervisor acts like a traffic cop, allowing multiple operating systems to run on the same device without requiring source code or binary changes. Each operating system appears to have the processor, memory, and other firmware resources all to itself -- but in reality, the hypervisor is controlling the processor and its resources, allocating what is needed to each operating system in turn.
Hardware virtualization is an evolving technology that may become dominant, especially for server platforms, because it has the potential to facilitate the consolidation of multiple workloads on a single physical server without requiring third-party software.
Continue Reading About hardware virtualization