Essential Guide
Stay connected with tips and trends in vSphere networking
A comprehensive collection of articles, videos and more, hand-picked by our editors
lldpnetmap
Lldpnetmap is a troubleshooting command that displays to which physical switch an ESXi host is connected.
FROM THE ESSENTIAL GUIDE:
Lldpnetmap is a utility that provides VMware vSphere administrators with a list ESXi hosts and the physical switches they are connected to.
Download tips on addressing the unique challenges of storage in VMware environments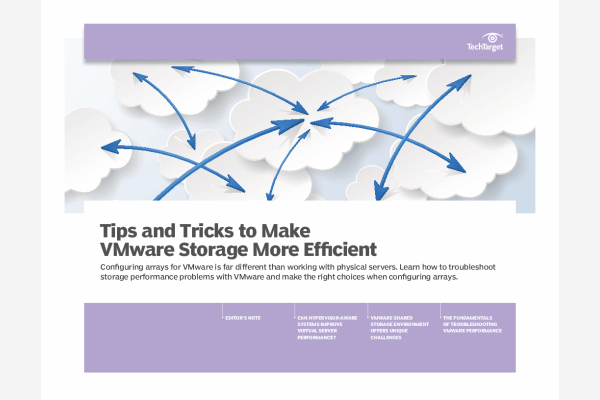 Configuring arrays for VMware is far different than working with physical servers. Explore this technical handbook to learn how to troubleshoot storage performance problems with VMware and make the right choices when configuring arrays.
By submitting your personal information, you agree to receive emails regarding relevant products and special offers from TechTarget and its partners. You also agree that your personal information may be transferred and processed in the United States, and that you have read and agree to the Terms of Use and the Privacy Policy.

lldpnetmap uses the link layer discovery protocol (LLDP) to uncover the host-switch connections. Administrators can run lldpnetmap from either the Ruby vSphere Console -- a Fling command interface which is implemented in vSphere 5.5 -- or from the ESXi Shell.
VMware introduced support for the link layer discovery protocol in vSphere 5.0.0.
Continue Reading About lldpnetmap