thick provision lazy zeroed definition
Thick provision lazy zeroed is a provisioning format for a virtual machine (VM) disk that creates a virtual disk in a default thick format.
Download tips on addressing the unique challenges of storage in VMware environments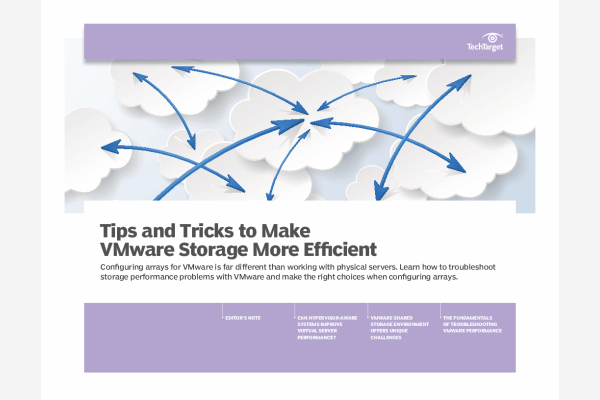 Configuring arrays for VMware is far different than working with physical servers. Explore this technical handbook to learn how to troubleshoot storage performance problems with VMware and make the right choices when configuring arrays.
By submitting your email address, you agree to receive emails regarding relevant topic offers from TechTarget and its partners. You can withdraw your consent at any time. Contact TechTarget at 275 Grove Street, Newton, MA.
You also agree that your personal information may be transferred and processed in the United States, and that you have read and agree to the Terms of Use and the Privacy Policy.

Thick provision means all the space designated for the virtual disk files is reserved when the VM is created. Lazy zero means that blocks containing older data on the storage device are only cleared when the virtual machine writes new data to the disk for the first time.
Continue Reading About thick provision lazy zeroed