Vmkfstools is an ESXi Shell command line interface (CLI) for building and managing volumes and virtual disks on an ESX/ESXi host.
Download tips on addressing the unique challenges of storage in VMware environments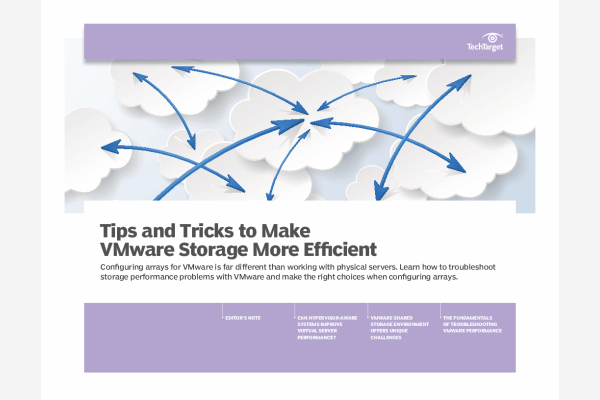 Configuring arrays for VMware is far different than working with physical servers. Explore this technical handbook to learn how to troubleshoot storage performance problems with VMware and make the right choices when configuring arrays.
By submitting your email address, you agree to receive emails regarding relevant topic offers from TechTarget and its partners. You can withdraw your consent at any time. Contact TechTarget at 275 Grove Street, Newton, MA.
You also agree that your personal information may be transferred and processed in the United States, and that you have read and agree to the Terms of Use and the Privacy Policy.

Among its storage administration features, vmkfstools can be used to copy, convert, rename, import, export and resize virtual disks. Vmkfstools can also be used to set up and manage raw device mappings (RDMs). A full listing of command options can be obtained by typing vmkfstools in a console session. Generally, it is not necessary to log in as the root user to run the vmkfstools commands. However, some commands -- such as the file system commands -- might require the root user login.
Continue Reading About vmkfstools