A VMware cloud provider's options for cloud management, strategy
Cloud service providers adopt VMware vCloud Director because of enterprise customers' familiarity with vSphere, but it isn't always a smooth road, and vCloud Director doesn't suit all enterprise cloud use cases.
Introduction
VMware's vCloud Director management tool works atop the vSphere hypervisor platform, abstracting virtual resources -- RAM, CPU, storage -- and users into connected pools called virtual data centers. VMware says its vCloud Suite adds flexibility to cloud providers' resource allocation and helps cut costs while also providing high transparency into the underlying infrastructure.
Cloud service providers compete against increasingly sophisticated in-house data center virtualization, but also against major commodity cloud provider Amazon, according to VMware. Hosting cloud services as VMware software-defined data centers gives providers the visibility that in-house data centers provide with the cost savings and scalability of a cloud partner, said Neela Jacques, senior cloud strategist for VMware's vCloud Suite. But the story became more complicated when VMware announced that it too would provide cloud hosting while continuing to support cloud-hosting companies that use VMware infrastructure.
1

Voices from the field

-
VMware cloud providers on vCloud Director
VMware's middleware, vCloud Director, abstracts virtual machine and data center provisioning, which helps structure virtualized environments for multi-tenant cloud computing. Cloud providers that host private, hybrid and public cloud environments on VMware infrastructures share why they do or do not use vCloud Director.
Feature
Enterprises that choose a VMware cloud provider buy into the argument for mature tools with centralized support and documentation and place less value on hypervisor-agnostic operations. One cloud provider, Savvis, a CenturyLink company, abandoned its in-house cloud middleware product for VMware when vCloud Director became available. "Folks are trained on VMware, and they know VMware," explained Jonathan King, vice president of cloud solutions. Continue Reading
Feature
VMware vCloud Director presents hurdles for its cloud provider users, especially if they use the earlier 1.5 version. "On vCloud Director 1.5 and vSphere 5, we run into VM snapshot difficulties because of linked clones," said Aaron Patrick, cloud services architect at Markley Group. In pursuit of better management, security and networking, the company is upgrading vSphere to enable vCloud Director 5.1. Continue Reading
Feature
Some cloud providers servicing enterprise IT customers want to provide a private cloud experience as similar to on-site data centers as possible. And that doesn't mean the multi-tenant vCloud Director; it means vCenter, said Ricardo Talavera, vice president of engineering at SingleHop. "VCloud Director works great in a public cloud setup. ... Private cloud users have requested that we leave vCloud Director off." Continue Reading
2

Evaluate the middleware

-
Is vCloud Director right for your customers?
VMware vCloud Director isn't right for every cloud use case. In many situations, vCenter remains the tool of choice.
Tip
If you're evaluating options, consider the scenarios in which vCloud Director offers more than vCenter: intense developer work, an infrastructure tiered by service levels, application catalogs for businesses, and service providers and users with multiple admins. For cloud service providers hosting test-and-development environments and application catalogs, consider moving customers to vCloud Director. Continue Reading
News
Cloud providers using vCenter for private clouds and vCloud Director for multi-tenant public clouds fear losing the granular view into virtual machines and resources vCenter provides to customers. Third-party management tools plug into vCloud Director's insertion APIs, however, restoring some controls. The best cloud management tool debate could become moot sooner rather than later, as VMware plans deeper integration between vCenter Server and vCloud Director in subsequent vCloud Suite releases. Continue Reading

Download this free guide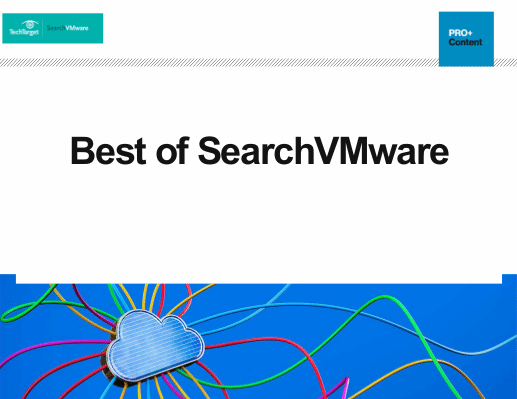 Free Guide: Best of SearchVMware.com Q1
Are you looking to advance your career? Expand your knowledge? Boost your credibility? Our editors put together this complimentary 19-page guide on everything you need to know about obtaining an IT certification—with special attention given to cloud and desktop certifications.
By submitting your personal information, you agree that TechTarget and its partners may contact you regarding relevant content, products and special offers.
You also agree that your personal information may be transferred and processed in the United States, and that you have read and agree to the Terms of Use and the Privacy Policy.
3

Market climate

-
Challenges ahead for VMware cloud providers
VMware launched its own cloud hosting services, vCloud Hybrid Service, in 2013, with an Infrastructure as a Service (IaaS) model and self-service console for customers to access resources.
News
VMware's foray into the cloud service provider arena -- vCloud Hybrid Service -- is more hybrid cloud enabler than public IaaS portfolio, but it will still be a direct competitor to VMware cloud service provider partners. The way to differentiate, according to Lynda Stadtmueller, program director of cloud computing services research at Frost & Sullivan's Stratecast, won't change: Develop services on top of the VMware cloud infrastructure that appeals to your customer base. Continue Reading
Tip
The other challenge for VMware cloud providers is more pervasive: stack heterogeneity. While vCloud's APIs enable third-party tool integration, VMware clouds are designed to play best with VMware products. Continue Reading
News
Cloud service providers recognize that their customers likely have a mix of cloud -- Amazon Web Services for test and development and VMware for business applications, for example -- and hypervisors in their data centers. VMware vCloud Automation Center is a step in this direction, potentially overshadowing vCloud Director for cloud management and self-service in the future. Continue Reading