Evaluate
Weigh the pros and cons of technologies, products and projects you are considering.
Top tools and techniques for VMware automation
Some IT professionals fear automation will eventually replace them, but proficiency with these tools can help bolster their credentials.
Introduction
VMware automation tools can help administrators accomplish a task in a shorter amount of time and can turn routine chores, such as taking a snapshot of a VM , into something that requires less intervention from IT. Reducing the manual fiddling of the infrastructure also reduces chances of human error.
In general, automation is something that can benefit a business as administrators build their proficiency with available tools. While virtualization has made certain aspects of the data center easier to handle, rising infrastructure complexity and growing business demands mean IT professionals need to develop more efficient methods to respond to everyday needs.
This guide covers the software, techniques and best practices VMware professionals are using in their environment to streamline common processes and speed up workflows.
1

Tactics and tools

-
Many facets to VMware automation
Companies are always relying on IT professionals to do more with less while also pushing for a presence in new areas, such as cloud computing. There are plenty of automation products an administrator can use to get the job done, but having a solid implementation strategy should be front and center with any initiative.
2

VMware PowerCLI

-
Free and flexible
One automation tool that administrators can add to their arsenal is VMware's vSphere PowerCLI, which can automate vSphere and vCloud management. Administrators can tap into PowerShell cmdlets to execute commands across their environment's virtual inventory.

Download this free guide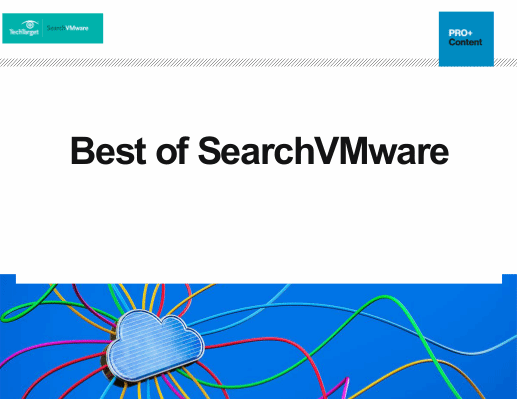 Expert Guide: Most popular articles from SearchVMware.com
Due to popular demand, our editors have put together this complimentary 32-page guide highlighting some of our most visited and most useful – as chosen by your peers – SearchVMware articles so far this year.
By submitting your personal information, you agree that TechTarget and its partners may contact you regarding relevant content, products and special offers.
You also agree that your personal information may be transferred and processed in the United States, and that you have read and agree to the Terms of Use and the Privacy Policy.
3

vCloud Automation Center

-
One way to handle your cloud
Another VMware automation tool that IT professionals can use is vCloud Automation Center. VMware's cloud management software product comes in three editions and gives administrators a utility to control VM sprawl and automate application delivery, among other things. VMware is planning to rename the product vRealize Automation by the end of 2014 as part of a rebranding strategy.
4

vCenter Orchestrator

-
Streamline your workflows
One VMware automation tool that can be used for bulk operations is vCenter Orchestrator (vCO). Admins can use vCO to automate the shutdown of a VM, to add extra vCPUs and to start a VM. VMware packages vCO for free with vCenter Server and is another tool for integrating scripting and automation in order to speed deployments.
5

Glossary

-
Key automation terms
6

Quiz

-
How well do you know PowerCLI 5.5?
You might have known PowerCLI before, but how well do you know the newest features? This quiz will help determine if you're an automation expert.
Take the quiz