Post Configuration of Connection Server - VMware View: Chapter 3
Post Configuration of Connection Server
This Content Component encountered an error

The Connection Server administration web pages are very simple and easy to understand. In many respects the management of the Connection Server could even be carried out by a very able desktop support person. If you are a VMware Professional, you could perhaps set up the system, but hand it over to desktop support personnel to manage on a day-to-day basis. Like many modern administration tools the web page opens to a dashboard view. There are four main views - Inventory, Monitoring, Policies and View Configuration, as the screen grab below shows. The administration tool has detected that we are currently not licensed: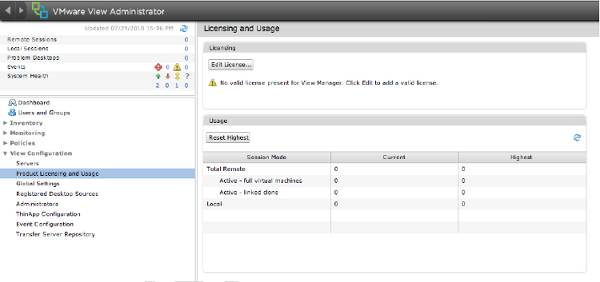 The Inventory node allows you to create virtual desktops and pools and assign them to appropriate users. The Users and Groups page simply allows you to see which users have access to which desktops – and manage their sessions. The Configuration Page is used in the primary set up of the system. The Events page, of course, is an event log of tasks carried out with the VMware View administration pages. The post-configuration tasks contain two primary steps – firstly licensing the Connection Server, and then configuring it so it can communicate with your vCenter. Note: In a Production environment, it is recommended that the Connection Server component is not installed on your vCenter server.
Dig Deeper on VMware Resources