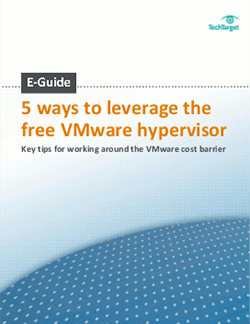 Download this essential guide on leveraging the free VMware hypervisor
Numerous enterprise-grade features are beyond the scope of a free VMware virtualization setup, but the cost savings might offset this loss of functionality.
 
Ask the average small business IT director how much VMware costs and the answer is likely to be too much. And while a free hypervisor like vSphere Hypervisor doesn't completely eliminate the cost of VMware virtualization, leveraging it alongside free third-party reporting, capacity monitoring and backup tools can help you stay within your limited budget.
 
Access this exclusive tip now to learn about free virtualization tools you can leverage for unlimited business use and how they can help you build a viable virtualization infrastructure for your organization.
This was first published in October 2013