Expert Guide: Essential Components of VMware vSphere
Expert guide that details the essential components of VMware.
Looking for something else?
TECHNOLOGIES

PRODUCTS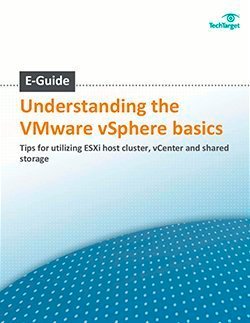 Download This Overview of VMware vSphere
Regardless of your experience-level with VMware, understanding the basics of vSphere is essential to creating a long-lasting, solid virtualization foundation.
So, whether you're just getting started or trying to familiarize yourself with the platform's latest features – a little expert guidance can go a long way.
Register now to access this back-to-basics overview of VMware vSphere that details the major components of ESXi host cluster, vCenter and shared storage.
Download this informative guide today.
Dig deeper on VMware basics