Problem solve
Get help with specific problems with your technologies, process and projects.
Installing and configuring VMware ESXi
Learn how to install and configure VMware's small footprint hypervisor, VMware ESXi, now available for free.
VMware announced that ESXi will be the exclusive hypervisor of vSphere 5. As such, we will likely see a greater...
Continue Reading This Article
Enjoy this article as well as all of our content, including E-Guides, news, tips and more.
By submitting your personal information, you agree that TechTarget and its partners may contact you regarding relevant content, products and special offers.
You also agree that your personal information may be transferred and processed in the United States, and that you have read and agree to the Terms of Use and the Privacy Policy.
adoption of VMware's smaller hypervisor.
ESXi can be either embedded on a server (boot from flash) or installed on existing servers, using the Installable version. The free version of ESXi, the VMware vSphere Hypervisor, includes support for virtual symmetric multiprocessing (vSMP) and thin provisioning. No additional features are included, which means the free version of ESXi cannot be managed by vCenter Server, because it does not include a vCenter Server agent. To gain additional features and a vCenter Server agent, you need to upgrade your ESXi license.
The ESXi installation uses about 5 GB of space. Any remaining space on the drive is automatically formatted as a Virtual Machine File System (VMFS) partition. The hypervisor needs roughly 32 MB; the additional space is used for VMware Tools as well as swap and core dump partitions.
If you already have existing licenses for ESX, you can also choose to deploy ESXi in place of ESX on a server. Simply download ESXi installable. Install it and then license it with vCenter Server, as you would a traditional ESX server. Follow the steps below to install and configure ESXi.
Installing ESXi Installable
Installation is fairly easy. To download and install VMware ESXi, follow these steps:
Register for a free license. VMware will email you a license key.
Download the ESXi installable ISO file.
Burn the ISO file to a CD and feed the CD to the server you want to install ESXi to.
Once you boot from the CD, the installer will load. Press Enter to begin and then F11 to accept the licensing agreement. Next, choose a disk to install to. (All data will be erased.) After ejecting the install CD, press F11 to start the install,.
Once the installation is completed, press Enter to reboot, and ESXi will start.
Once ESXi is installed, there are two ways to configure it: through the ESXi console or the VMware vSphere Client.
Configuring ESXi from the console
After installing ESXi, you will want to configure it. To do this, use the built-in Direct Console User Interface (DCUI). Press F2, once the server boots, and use the default login name of root with no password.
The next step is configuring the network. (After the networking is set up, you can make additional changes in the vSphere Client.)
Once the server boots, it will attempt to use Dynamic Host Configuration Protocol (DHCP) to get an IP address for the management network. If you are not using DHCP, it will fail. But you can configure it manually by pressing F2. Next, select the Configure Management Network option. Then, choose Network Adapters and select the network interface card (NIC) that you will use. Next, select IP Configuration and choose the static IP address option. Set an IP address, net mask and gateway. Press Enter to save it. Finally, select the DNS Configuration option and set your domain name servers (DNS) and DNS host name. You can also restart and test the management network by using the menu options.
Figure 1
(Click image for an enlarged view.)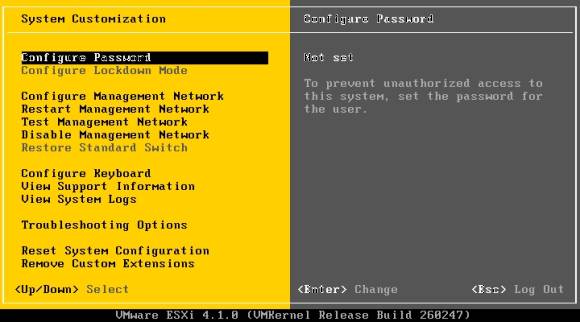 Now that you have the networking configured, set a password for the root account through the server console by pressing F2. Then, select Configure Root Password.
The System Customization menu contains additional configuration options:
Configure Lockdown Mode. When enabled, it prevents remote logins with the root login name. It's not available unless the host is managed by vCenter Server.
Restart Management Network. This option simply stops and starts the management network interface of the ESXi console (not to be confused with restarting management agents). It's useful when you cannot stop or start a virtual machine or if vCenter Server displays a VM running when it's not.
Test Management Network. This action pings the default gateway and DNS servers. It also tries to resolve the host name to verify that the management network is configured properly.
Disable Management Network. This option toggles between enabling and disabling the management network interface of the ESXi console. It does not affect VMs running on the host.
Restore Standard Switch. Use this action to restore a network if there are problems with a Distributed vSwitch that was migrated from a standard switch. It creates a new virtual adapter and migrates the management network from the Distributed vSwitch to the standard vSwitch. But it's not available unless a Distributed vSwitch is configured.
Configure Keyboard. You can select the language for the host's keyboard layout.
View Support Information. This option displays the server's serial number, license serial number and the Secure Shell thumbprint, which is used to verify the ESXi host's identity, among other things.
View System Logs. This action displays system logs, such as the VMkernel and hostd log files.
Reset System Configuration. This option resets all systems parameters back to their defaults, including the root password and unregistering all VMs from the host.
Remove Custom Extensions. This action removes any third-party VMkernel modules, drivers or hardware Common Information Model (CIM) providers installed on the host.
In the System Customization menu, the Troubleshooting Options selection opens a submenu with the following options:
Enable Local Tech Support. This option toggles between enabling and disabling the local command-line shell (Alt-F1) of the management console.
Enable Remote Tech Support (SSH). This action toggles between enabling and disabling remote SSH access to the command-line shell of the management console.
Modify Tech Support timeout. Once local or remote Tech Support Mode is enabled, this option sets the length of time (in minutes) that someone has to log in before Tech Support Mode logins are automatically disabled. The default is 0, which disables the timeout. You can set it to 1,440 minutes (24 hours).
Restart Management Agents. This action offers the same functionality as restarting the mgmt-vmware (hostd) and vmware-vpxa (vCenter Server agent) services in ESX. It also restarts other management agents and services, such as the High Availability agent.
Configuring ESXi from the vSphere Client
Once networking is configured, set a root password (if you haven't already). Connect to the host through the vSphere Client and log in, using the root account with no password. To set the password, click on the Local Users & Groups tab. Right-click on the root user. Select Edit, then Change Password.
By default, ESXi will run in evaluation mode for 60 days with an Enterprise Plus license, which gives you access to every feature. Once the free, permanent license key is installed, you can no longer use those features. To install the license key in the vSphere Client, go to Configuration and then Licensed Features. Click the Edit link and select the option to assign a new license key to the host. Input the license key that was emailed to you.
From this point, the configuration similar to a setting up a regular ESX server. You can manage the ESXi Tech Support Mode settings in the vSphere Client. Select Security Profile in the Software section on the Configuration tab. This screen shows which services (daemons) are running on the ESXi host, including the daemons for local and remote tech support modes.
To enable those daemons, select Properties, which brings up the list of daemons. Then, select the appropriate daemon and click Options. Select the Start button, and the daemon will run for the amount of time that's set in the Tech Support Mode timeout value.
It can be changed by selecting Advanced Settings in the Software section on the Configuration tab. From there, select the UserVars option in the left pane. Change the UsersVars.TSMTimeOut to a numeric value between 0 and 86,400. (Note: In the vSphere Client, this value is measured in seconds. In the console, it's measured in minutes.)
Facts about ESXi
Here is some useful information about ESXi:
ESXi installable has its own Hardware Compatibility List (HCL). While ESXi installable will run on other hardware, the hardware mentioned on the list is the only, official hardware that VMware supports.
ESXi does not have a built-in firewall like ESX, because there isn't a service console to protect. ESXi runs a limited set of well-known services that are automatically allowed and it prevents the addition of other services that can be enabled in ESX, such as hardware and backup agents, Web access and File Transfer Protocol.
ESXi does not have a Web access user interface in any edition.
Host hardware monitoring is built in to ESXi through CIM providers and it can be displayed in the vSphere Client on the Hardware Status tab.
There are special versions of ESXi that have Original Equipment Manufacturer customized installers, which contain additional hardware monitoring drivers for specific vendor hardware (e.g., Hewlett-Packard and Dell). Their installers can be downloaded from VMware's website, in the product download section under Drivers & Tools.
Unlike ESX, ESXi has very few installation prompts to help configure the server. The network configuration is completed after it is installed, for example.
The embedded version comes preinstalled on a flash drive, but ESXi Installable can also be installed to a flash drive. Just make sure the flash drive is inserted in the server when installing ESXi, and you select it as the install target disk. ESXi can install to a 1 GB flash drive, but an 8 GB drive is recommended, so the additional scratch partition can be created. ESXi can also be installed to any flash drive model, but only flash drives supplied by server vendors are officially supported.
There isn't support for the free version of ESXi, unless you purchase it at the VMware store for $299 for a single incident, $749 for three incidents or $1,149 for five incidents.
The next tip covers the methods for patching your ESXi host to ensure that you're running the latest, most-secure build.
Dig Deeper on Creating and upgrading VMware servers and VMs