What is VMware vCenter Server?
This VMware vCenter definition explains the features and capabilities of vSphere's centralized management tool.
VMware vCenter Server, formerly known as VirtualCenter, is the centralized management tool for the vSphere suite....
Continue Reading This Article
Enjoy this article as well as all of our content, including E-Guides, news, tips and more.
VMware vCenter Server allows for the management of multiple ESX servers and virtual machines (VMs) from different ESX servers through a single console application.
All the well-known features in vSphere -- such as VMotion, Storage VMotion, Distributed Resource Scheduler, VMware High Availability and Fault Tolerance -- require vCenter Server.
VMware vCenter Server comes in two versions: Standard and Foundation. The Foundation edition is designed for small and medium-sized businesses that run up to three ESX servers. The Standard version, on the other hand, is for large-scale vCenter Server deployments.
vCenter Server performs the following three key functions:
Visibility. vCenter Server allows you to configure ESX servers and VMs, as well as monitor performance throughout the entire infrastructure, using events and alerts. The objects in the virtual infrastructure can be securely managed with roles and permissions.



Scalability. The visibility found in vCenter Server is scalable across hundreds of ESX servers and thousands of VMs. Using Linked Mode, you can also manage multiple vCenter servers within the same vSphere client.



Automation. vCenter Server alerts can trigger actions. The Orchestrator feature in vCenter Server Standard allows you to automate hundreds of actions.
Figure 1
VMware vCenter Server's three main functions.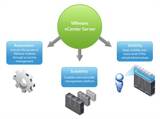 Click image to enlarge.
Additional resources on VMware vCenter Server and vSphere 4
The following articles, tips, and blog posts will provide a more in-depth overview on VMware vCenter Server and vSphere 4.
VMware launches vSphere 4
Memory usage in vCenter Server 4.0
Enhanced alarm reporting in VMware vCenter Server 4.0