Nmedia - Fotolia
How does VMware vSphere 6.5 improve its Content Library?
Introduced in vSphere 6.0, the Content Library was a nifty tool, but had some serious limitations. VSphere 6.5 changes that with a number of new capabilities.
VMware's introduction of the vSphere Content Library in vSphere 6.0 gave users a taste of its VM template management...
Continue Reading This Article
Enjoy this article as well as all of our content, including E-Guides, news, tips and more.
capabilities. VMware vSphere 6.5 enhances the Content Library with three new options: mount an ISO from the content library, update existing templates and apply guest OS customization specifications during a VM deployment. These new features help plug holes in and expand other capabilities introduced in the original version.
The first of these capabilities -- mounting an ISO from the Content Library -- is useful because it eliminates the need to store ISO images on a data store but keeps the images readily accessible.
It's also possible to use vCenter High Availability and vCenter Server Appliance's Backup and Restore functionality -- both new to VMware vSphere 6.5 -- if you put your content library on the vCenter Server Appliance.
To access the vSphere Content Library, go to the vSphere Web Client Home page (Figure A) and click Content Libraries. If this is your first time using the content library function, you must first create a library.
Choose a meaningful name for your library and indicate whether it's a local or subscribed library. A local library is accessible to users within the local vCenter Server system and a subscribed library is one to which users from other vCenter systems can subscribe.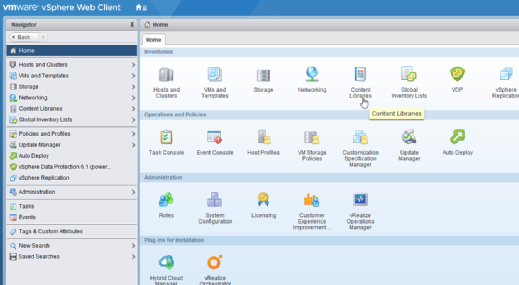 Once you've created a library, you can import items, including ISO, Open Virtual Appliance and multimedia files, via the Actions menu. The library can also host other files, such as text files -- it's highly flexible.
VM customization
VMware vSphere 6.5 gives users the option to customize new VMs deployed from Content Library templates. This means you can assign properties, such as host name or networking details, to an individual VM (Figure B). To do so, follow the assistant and create a new VM from your library. The process is similar to creating a VM from a template stored in a data store, with the exception that you store the template in the vSphere Content Library.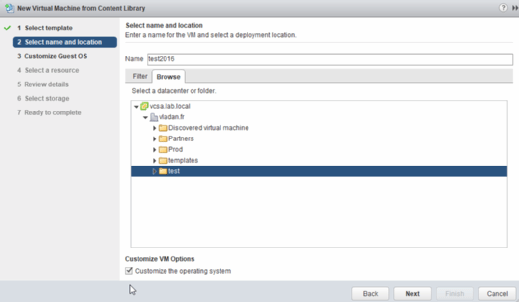 Mount ISO from a Content Library
VSphere 6.0 stores ISOs on an external Network File System or in another data store. VSphere 6.5, however, allows you to store ISOs in the library, create VMs and attach the CD/DVD drive that points to the ISO stored in the vSphere library.
This is just one option the VMware vSphere 6.5 Content Library provides when connecting a CD/DVD drive to a VM. You can also mount an ISO from the content library as a Content Library ISO File -- be sure to tick the box labeled "Connected" next to the drop-down menu (Figure C).

You can clone a template to the library to add more content; to create a template from a VM, right-click the template and select Clone > Clone to Template in Library.
If you use a local library to store items in a single vCenter Server instance, you can publish the local library so that users from other vCenter Server systems can subscribe to it. When you publish a content library externally, you must configure a password for authentication. Authenticated users can access your templates, ISO files or other content from the same library without having to recreate the same file structure on their end, which saves time and storage space.
Dig Deeper on VMware performance enhancements
A vSphere administrator can use VMware Remote Console to remotely access a VM's peripherals, configuration and desktop remotely through the vSphere ... Continue Reading
You can set up your infrastructure to better take advantage of new technology in just a few steps. Perform a VM version upgrade to get the most out ... Continue Reading
With access to logs, you can troubleshoot your ESXi host and track issues as they crop up. You can access your logs via the console or a web browser ... Continue Reading