 BACKGROUND IMAGE: iSTOCK/GETTY IMAGES
The essential guide to VMware NSX SDN technology
Editor's note
VMware's NSX network virtualization technology gives IT administrators the ability to virtualize network components without manual configuration. They can use VMware NSX software-defined networking (SDN) technology to manage networks at the hypervisor level, and they can use software to provision, organize and secure enterprise-scale networks.
NSX is central to VMware's strategy as it shifts from server virtualization to network virtualization. VMware NSX SDN capabilities play an important role in VMware's software-defined data center initiative and its cloud computing services. VMware NSX SDN features include network functionality built into the hypervisor, dynamic virtual network management, heightened network security and powerful automation.
Explore this essential guide to get a foundation of NSX's capabilities, to learn the extent of its features, to study its implementations and to for its future.
1

Evaluate the capabilities of NSX

VMware has continued to add significant features to the NSX platform since its release. Features and security developments have improved the VMware NSX software-defined networking platform and kept it top of mind for VMware administrators.
2

Explore how NSX works in the field

VMware NSX has proven to be a popular and capable service. VMware administrators can apply its features and compare it to similar technologies as they learn how to choose between editions, and how to implement and configure it.

Download this free guide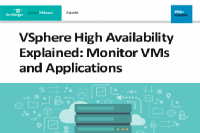 Exclusive Download: VSphere High Availability Explained
In this guide, discover best practices, storage requirements, and features you should know about VMware vSphere High Availability and how it compares to Microsoft Hyper-V.
3

A new direction

VMware is forging a new path with NSX. Server virtualization has been established, and VMware is pursuing network virtualization as a future growth area.