James Thew - Fotolia
Putting Oracle databases on a virtualized infrastructure
As virtualization technology has improved and features have expanded, putting an Oracle database system on vSphere is not as daunting a task as it once was.
There's little doubt of the benefit of working inside a virtualized infrastructure. The stability and flexibility delivered by the vSphere platform has made it easier to boost performance and recover systems from hardware failure -- or human error.
For an Oracle database administrator (DBA) who may not be familiar with the world of VMware, the benefits behind virtualization may not outweigh the fear of the unknown when Oracle has been deployed on vSphere. The book Virtualizing Oracle Databases on vSphere by Kannan Mani and Don Sullivan tries to address these fears by covering a range of topics that include the basics of virtualization, best practices for virtualizing Oracle and case studies of companies that have made the transition from a traditional Oracle setup to a virtual one.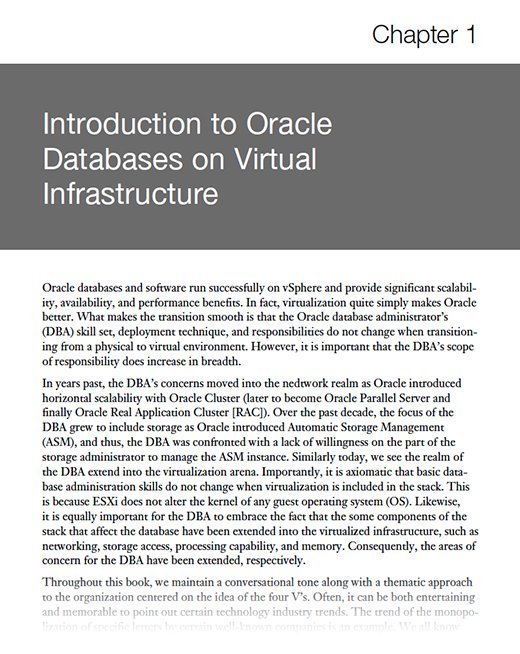 In Chapter 1, entitled Introduction to Oracle Databases on Virtual Infrastructure, Mani and Sullivan explain the concepts of virtualization and the software defined data center (SDDC). The authors explain that, as Oracle's technology has expanded into networking and storage, these changes have also expanded responsibilities of the DBA. While the authors say all elements of a SDDC should be virtualized, they note storage and network were the areas that had lagged behind in this endeavor. But with technologies like VMware's NSX, VSAN, and Virtual Volumes, the road to full virtualization is inching closer.
Mani and Sullivan go on to discuss the benefits of virtualizing Oracle databases, with the main benefit being the resource management capabilities in vSphere that allow DBAs to comply with service-level agreements.
Below is an excerpt from the Chapter 1. To download the chapter excerpt, click here.
In years past, the DBA's concerns moved into the network realm as Oracle introduced horizontal scalability with Oracle Cluster (later to become Oracle Parallel Server and finally Oracle Real Application Cluster [RAC]). Over the past decade, the focus of the DBA grew to include storage as Oracle introduced Automatic Storage Management (ASM) , and thus, the DBA was confronted with a lack of willingness on the part of the storage administrator to manage the ASM instance. Similarly today, we see the realm of the DBA extend into the virtualization arena. Importantly, it is axiomatic that basic database administration skills do not change when virtualization is included in the stack. This is because ESXi does not alter the kernel of any guest operating system (OS). Likewise, it is equally important for the DBA to embrace the fact that the some components of the stack that affect the database have been extended into the virtualized infrastructure, such as networking, storage access, processing capability, and memory. Consequently, the areas of concern for the DBA have been extended, respectively.
Next Steps
Is it time to virtualize your Oracle database?
Dig Deeper on Using monitoring and performance tools with VMware