Evaluate
Weigh the pros and cons of technologies, products and projects you are considering.
Q&A: Combat data center virtualization pitfalls with VMware tools
EMC's Eric Maillé discusses virtualization pitfalls and recommended VMware tools for combating these issues, from early virtualization to the cloud.
IT departments can reduce hardware costs and streamline services by moving to partial or full virtualization, or embarking on cloud computing. However, there are risks to virtualizing a data center, and these risks change with each phase of the project.
Eric Maillé is an enterprise technology consultant at EMC, VMware's parent company. He is a VMware vExpert 2011 and 2012. Maillé is the co-author, with René-Francois Mennecier, of VMware vSphere 5 Building a Virtual Datacenter. He spoke with SearchVMware about the data center virtualization risks encountered at each phase of the project, and tools to combat them.
What are some virtual data center pitfalls?
Eric Maillé: Server virtualization helps IT departments transform from physical to virtual data centers, adding flexibility and agility and reducing cost and infrastructure complexity. But this transformation can't be done in one day (see Figure 1), and each phase of virtualization has challenges and risks associated.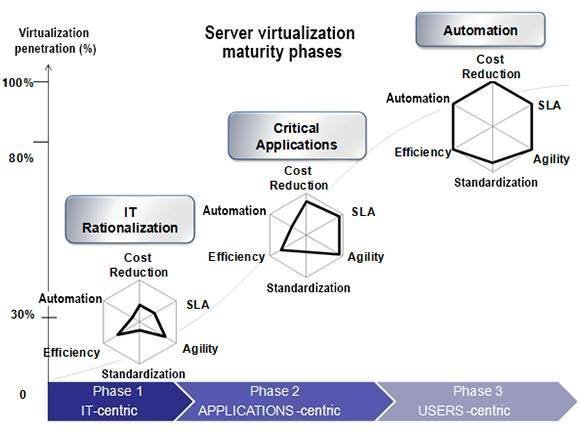 Figure 1. Phase one revolves around the infrastructure services controlled by IT. Phase two focuses on business applications, while phase three covers services offered to users.
In the first phase, the IT team virtualizes servers directly under their control: domain controllers and domain name systems, printing servers and Web servers, development and test servers. This phase brings up to 30% of IT operations from physical to virtual. Servers can be provisioned in minutes, which can generate virtual machine (VM) sprawl, where VM proliferation drains storage capacity and complicates backup methods. Keep control with strict VM management rules, and adopt capacity planning and administration tools.
In the second phase, virtualization shifts to business applications: Oracle, SAP, SharePoint, SQL [Server], Exchange, Lotus Notes and others. Virtualization reaches 30% to 80% penetration. A project-oriented approach helps overcome technical hurdles in this phase. IT managers must implement adequate target architecture to support the application load, considering performance, backup and disaster recovery plans (DRP). Existing plans developed for the physical data center must be revised for virtualized environments. Data management -- data compression, thin provisioning and backup deduplication -- is important for the storage architecture that hosts VMs. Take into account the environment's dynamic nature, and be prepared to revise existing architectures.
By phase three of data center virtualization, automation leads to cost reduction, with a focus on end-user services. Virtualization pitfalls will change from technical or infrastructure issues to organizational and governance issues. Server virtualization affects all hardware and software elements of the data center, and governance rules will establish who has decision-making power. Automation is very convenient, but a VM is by no means free. Adopting strict rules and defining a VM-management policy are absolutely indispensable at this phase. If a chargeback scheme is implemented, the criteria must be delineated, whether per consumption, per VM or another model. Finally, for legal conformity, all aspects of VM lifecycle management are of concern when determining which VMs can be deleted and which must be preserved and archived.
Are there challenges that have nothing to do with software/hardware?
Maillé: Some companies can face strong internal resistance to virtualization's changes. Get all IT teams involved in the project early on and support them throughout the transformation. IT admins must acquire cross-competency skills and be trained in the new environment. Their roles and tasks must evolve until they have a global vision and understand the interactions between the various components of the technology and the data center.
If you take virtualization through to cloud computing, other challenges arise around understanding where data is located and who has ownership. The cloud service provider must be able to explain where data is and whether the regulations in effect conform to applicable legislation. The data flow and its ownership must be well documented and validated by all parties.
What do you recommend to track and mitigate these data center virtualization risks?
Maillé: VMware tools are integrated with the various data center elements at software and hardware levels.
IT teams need to address performance when consolidating many VMs into smaller servers. VSphere 5.1 offers high performance levels, wherein a VM supports up to 64 vCPUs and 1 TB RAM, as well as inputs/outputs (I/O) that can handle high application loads -- 95% of workload can be placed into the VMware environment without difficulty. Even with these high-performance features, storage design is important. Storage design, for example, helps separate production and non-production environments and identifies application profiles.
Consider the concept of consolidation ratio, or the number of VMs that can be run simultaneously on a host server ESX. This ratio is expressed in VM/CPU or more often VM/Core on a host. The higher the rate of consolidation, the more costs will be reduced.
VMware vCenter Operations Management Suite gives IT visibility into the environment, full automation that frees administrators from manual tasks and proactive incident management. It ensures compliance based on configuration policies and helps administrators provision the virtualized infrastructure. Other tools to consider are vkernel or Quest (now part of Dell), Sysload, Veeam and Xangati.
Cloud computing admins can use VMware's vCloud Director, a provisioning and application-deployment tool, for a fully virtualized data center. VCloud Director manages all virtualized components from machines to virtual networks, using high security levels just like a physical data center. IT resources are consumed as a service with vCloud Director.
The IT department can use VMware vShield to secure their environment. VShield is a suite of security virtual appliances and APIs that are built to work with vSphere, protecting virtualized data centers from attacks and misuse.
Microsoft's Hyper-v R3 + System Center is an alternative to VMware. While it is adapted for small- and medium-sized businesses, Microsoft's product does not yet offer all of VMware's advanced functionalities for large corporations virtualizing IT operations.
Dig Deeper on Creating and upgrading VMware servers and VMs