kantver - Fotolia
VMware's growth tied to innovation and acquisition
VMware's origin started with five employees and an idea to abstract hardware. Now the company is evolving faster thanks to a rapid succession of acquisitions.
The VMware of today has offices around the world and hundreds of thousands of customers. The company has come a long way since its start 17 years ago, when all its five founders had was an idea for a virtualization product.
A year later, in 1999, VMware launched its first commercial product, VMware Workstation, which allowed desktop computers on Windows and Linux to run multiple operating systems.
The concept of a virtual machine manager had been around since the 1960s when IBM used them to maximize mainframe use. Today, these virtual machine managers are better known as hypervisors.
VMware hit $1 million in sales in 1999 after it had sold its VMware Workstation product to more than 2,200 universities.
The work by IBM inspired VMware's five co-founders to develop a hypervisor for the x86 platform. VMware Workstation was a type-2 hypervisor, or a hosted hypervisor, which is a virtual machine manager installed on top of a host operating system.
VMware would go on to develop the ESX type-1 hypervisor, which was a virtual machine manager that ran on system hardware and did not require a host operating system.
By 2000, the company had more than 385,000 users and was licensed in more than 5,000 companies around the world.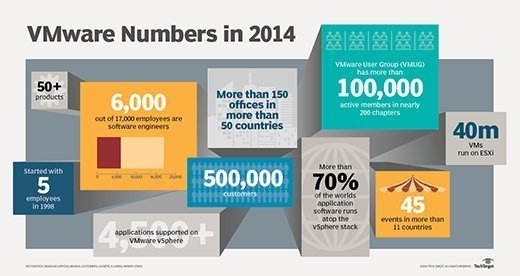 VMware continued to innovate and expand its virtualization portfolio, drawing the attention of storage vendor EMC, which acquired VMware in 2004 in a multi-million dollar deal.
In 2005, VMware began to follow its parent company's lead and made its first of many acquisitions by picking up Asset Optimization Group for its capacity planning software tool.
By 2014, VMware had made more than 30 acquisitions to either add a product or absorb the intellectual property from other companies to expand the functionality across its line of offerings.
Today, VMware has more than 6,000 software engineers among its 17,000 employees. But the company continues to look beyond its borders to further its ambitions, recently making billion-dollar-plus acquisitions for Nicira Networks' network virtualization technology and AirWatch, for its mobility management expertise.
The VMware user community has also grown in rapid fashion. Started in 2010, the VMware User Group (VMUG) enables VMware users to exchange information and learn about products and best practices. The VMUG has grown to more than 100,000 active members in nearly 200 chapters. In 2014, there were 45 VMUG events run in more than 11 countries.
Next Steps
How virtualization has helped VMware grow at 86% per year