News
Stay informed about the latest enterprise technology news and product updates.
VDI deployments finally make good on ROI promise
As the workplace becomes increasingly mobile and virtualization solidifies its role, VDI has made good on its promise of ROI. Here's how to justify a virtual desktop deployment.
PCs have long been the bane of IT. As long as desktop hardware is under users' control, even sophisticated management software and lockdown policies will not abolish support and security challenges. PCs and laptops are also expensive to purchase, deploy, maintain and upgrade.
Virtual desktop alternatives: VMware View vs. Citrix XenDesktop
The only two real contenders in the virtual desktop market today are VMware View and Citrix XenDesktop. While they each have pros and cons in regard to deployment, management and performance, they both are excellent products that are likely to leapfrog over each other in capabilities and features for some time. So how does an organization choose which desktop virtualization product to implement? By evaluating how a virtualized desktop best fits within the big picture of a virtualized data center.

The desktop is just another virtual machine that utilizes the same infrastructure, management console and licensing as the server VMs. It is much more efficient from a cost structure and a staffing expertise standpoint to utilize the same virtualization architecture from the server to the desktop. The real decision should therefore be not View versus XenDesktop, but vSphere versus XenServer.
Virtualization recasts desktops as virtual machines (VMs) that are provisioned and managed as part of a unified data center fabric, along with servers, storage and network. IT control increases significantly and users benefit from an improved computing experience.
In this article, we explore how virtual desktop infrastructure technologies have evolved and whether the time is right for companies large and small to adopt desktop virtualization to enhance employee mobility, reduce IT costs and power consumption, and improve uptime.
Why VDI and why now?
The initial enthusiasm for server-based computing (SBC) during the late 1990s never crossed over to the mainstream. Subdued marketing by providers such as Citrix Systems Inc. and Microsoft undoubtedly played a part, but so did technical limitations. Windows Server was never designed to be multi-user; it takes significant effort to successfully deploy an enterprise SBC environment. Even Citrix's many enhancements do not preclude the need for savvy IT administrators to manage challenges in application incompatibilities, session lockdowns and a different look and feel from users' standard desktops.
VDI is less complex than Windows Terminal Services' shared desktop model. A standard desktop is simply converted to a virtual machine, where it runs in a data center and is accessed securely over a local area network, wide area network or the Internet using a low-bandwidth protocol. It has the same look and feel as a conventional desktop and is administered with the same tools and policies that run the rest of a virtualized data center.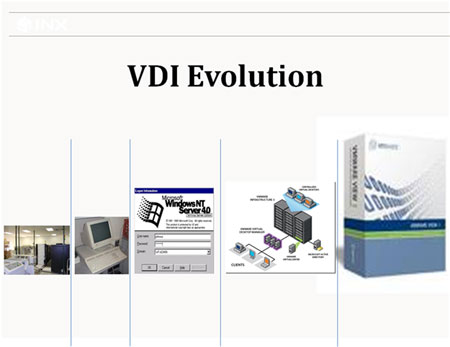 VDI benefits gain ground
VDI technology has finally caught up with its promise. The VDI experience approximates that of a rich desktop and includes several advantages, such as ubiquitous access, instant availability and less downtime. Ever-more powerful servers negate concerns about scalability. Centralized management features enable enhanced administration. Integrated application virtualization simplifies the provisioning, managing and patching of applications and enables even multiple versions of the same application to coexist on the same virtual desktop without conflict. Linked clones and disk streaming technologies minimize storage requirements of centrally hosted data.
The timing is right as well. VDI productively and cost-effectively facilitates the increasing demand for telecommuting. IT costs, power consumption and regulatory compliance are areas where virtual desktop infrastructure can make a difference. Increasing mandates for a viable disaster recovery solution are met by continuously replicating both desktop and server virtual machines to a remote facility.
Virtualization has also crossed the chasm. VMware in particular has become so pervasive in data centers that corporate decision makers now grasp the concept of a virtual machine. The same infrastructure built for hosting virtual servers can easily be scaled to accommodate virtual desktops, minimizing the economic and training investment. The IT staff consequently can make a compelling case for layering VDI onto a virtual infrastructure.
VDI from a data center perspective
Desktop computing reflects its origin as a grassroots initiative in the sense that IT has never really gained control of the PC domain. Pervasive overlapping of applications leads to duplicate data entry into multiple programs. PCs require periodic upgrades, ongoing hardware support, and significant effort to keep operating systems and applications patched and updated. Remote offices often require servers and network infrastructures. PCs and laptops under user control are susceptible to loss, theft or compromise. A replacement PC may lack the client/server software configurations necessary for quick failover to a recovery data center in the event of a disaster at company headquarters.
VDI brings computing back to a data center, where the virtual desktop is always secure, managed, backed up and redundant. The user device no longer matters unless heavy-duty graphics applications or truly disconnected computing is required. Organizations migrating to VDI often lock down PCs, and replace them with inexpensive thin-client or zero-client devices as they break. These alternatives have no moving parts, make no noise and use only a fraction of the electricity of a PC. Employees who have laptops to work between the office and home no longer need to lug the expensive, slow-booting and easily lost or broken machines back and forth. They can instead go home and log onto their virtual desktop – picking up exactly where they left off at the office.
Desktop virtual machines have the advantage of being hosted in a resilient data center where they are professionally monitored and managed. Virtualization enabled fault-tolerance means they always remain online even in the event of hosted server failure. IT can more economically meet service-level agreements and no longer needs to spend resources on issues resulting from desktop hardware failure or user misconfigurations. New customized desktops can be provisioned in minutes. User downtime resulting from installation of a new PC or application is a thing of the past.
Making VDI work
Incorporating thousands of desktop virtual machines into a data center necessitates an architecture that is flexible enough to accommodate all kinds of users and remote access points but that is standardized enough to minimize administrative efforts. The network must accommodate the virtual machines competing for the same bandwidth to shared storage and clustered hosts. Appropriate network and security policies are required to ensure that users always maintain their individual settings and authentication rights.
A successful VDI rollout requires consideration of the political and social environment as well. While it is theoretically possible to convert a user's desktop to a virtual machine without her awareness, this is generally not a good idea. If an influential user sits down at a new zero client device and has difficulty printing or finding files, the entire VDI project could be in jeopardy. VDI requires the planning, piloting, beta rollouts and project management components that are a prerequisite to any successful enterprise platform deployment. Users need to be educated about how VDI differs from traditional desktop computing and how migrating to it will benefit an organization and individual users. Implementing VDI is also a perfect opportunity for IT to begin the process of application virtualization, but this should be done within the context of social harmony.
Financially, justifying a VDI project helps ensure adequate resources are provided for its success. Research organizations tend to overestimate the investment costs by not considering the synergies from layering VDI on top of a virtualized data center infrastructure while underestimating the VDI savings resulting from opportunities such as eliminating branch servers. PC refreshes, power usage, remote-office network infrastructures, PC technician salaries, help desk time and application licensing costs are among the many cost-saving areas to evaluate to determine a realistic ROI.
The future of VDI
Despite its long legacy, VDI is still in the early stages. Innovations in areas from graphics to management to performance are being introduced at a furious rate. The momentum is driven by both a desire to reduce computing costs and to increase IT control, while still enhancing user productivity. Today's technology already leaves no doubt that the more agile virtual desktop is going to increasingly displace its limited and costly physical predecessor.
ABOUT THE AUTHOR: Steve Kaplan is the vice president of the Data Center Virtualization Practice at INX. Kaplan can be reached at steve.kaplan@inxi.com. You can also follow Steve on Twitter.
Dig Deeper on VMware desktop software and desktop virtualization