Attaching NFS storage to a VMware ESXi host
NFS storage provides a cheap and effective way to centrally store disk images in VMware ESXi. It takes only a few clicks to attach NFS storage to an ESXi host.
Network File System (NFS) storage can be an attractive option for your VMware ESXi infrastructure.
Continue Reading This Article
Enjoy this article as well as all of our content, including E-Guides, news, tips and more.
NFS storage is widely available and easy to configure for disk image files. Its servers can centrally store virtual machine (VM) files for ESXi infrastructures. And it's usually cheaper than proprietary storage area networks (SANs). A decent 1 TB NFS storage server costs about $1,000, whereas the cheapest SANs start at approximately $5,000.
Once you've configured either network-attached storage or a Linux server that offers an NFS share, the next step is to connect the NFS storage to an ESXi host.
Attaching an ESXi host to NFS storage
Log in to the vSphere Client and select the ESXi host that you want to configure for NFS storage. Next, click on the Configuration tab and select the Storage link. You will see the data stores that the ESXi host currently uses.
If you haven't attached storage to the ESXi host, you'll see the local disk. If you see storage other than the local disk, you can click on it for an overview of its properties.
Figure 1
If you haven't configured storage for the ESXi host, you'll see the local disk. (Click image for an enlarged view.)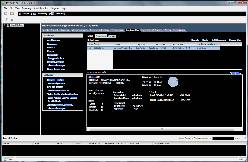 To add new storage, click Add Storage. In the Add Storage wizard, select Network File System.
Figure 2
To use NFS storage, select Network File System. (Click image for an enlarged view.)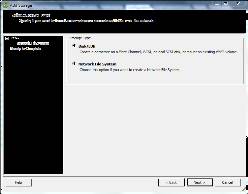 In the next window, enter the properties to connect to the NFS share. In the server-name field, enter either the NFS server's name or IP address. It's a good idea to enter a name, because IP addresses tend to change. You don't want to go through this configuration step on every ESXi host after you've changed the NFS server's IP address.
Next, enter the name of the share on the NFS server. (Don't mount the NFS storage as read-only if you want the NFS server to store virtual disk image files.) Finally, type a unique data store name, which is only for ESXi configuration purposes and doesn't change anything on the NFS server, so you can use whatever naming convention works for you.
Figure 3
Enter parameters to connect to NFS storage. (Click image for an enlarged view.)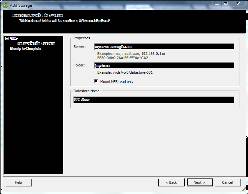 After clicking Next, you'll see the summary windows. If these windows show the right parameters, click Finish to write the configuration and connect to the NFS storage, which may take awhile. You can monitor the status under Recent Tasks in the lower end of the vSphere Client window.