Problem solve
Get help with specific problems with your technologies, process and projects.
Building network redundancy into VMware ESXi
Network redundancy ensures that you aren't caught off guard by network failures. Luckily, it takes only a few steps to create a redundant network in VMware ESXi.
VMware's default configuration provides a working network, but if you want to survive a network interface failure,...
Continue Reading This Article
Enjoy this article as well as all of our content, including E-Guides, news, tips and more.
you'll need network redundancy.
All it takes to create network redundancy are two network cards connected to the same physical local area network. This article covers how to set up network redundancy to ensure that a VMware ESXi infrastructure can survive network interface failures.
VMware network configuration
VMware networking consists of many layers. At the bottom, you'll find the physical network cards. In the vSphere Client, the physical network adapters are found on the Network Adapters tab.
Figure 1
Physical network cards are added to the Network Adapters tab. (Click image for an enlarged view.)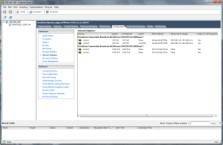 A virtual switch resides on top of the physical network cards. By default, you'll find one virtual switch, called vSwitch0. To see whether a virtual switch is connected to the right network card, every physical network card in the Network Adapters overview lists observed IP ranges, which are IP addresses that were detected on the connected network segment. With this information, you can ensure that a physical network card and its associated switch are patched to the correct network.
Every virtual switch on a VM host is used like a physical switch in a physical network, which means that you can connect several VMs to a switch. The Networking tab provides an overview of the current configuration.
Figure 2
The Networking tab displays an overview of the existing virtual networks. (Click image for an enlarged view.)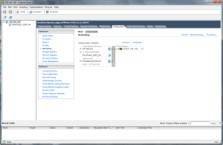 Creating network redundancy
In a default installation, just one physical network adapter is connected to a virtual switch. For network redundancy, however \you should add another network adapter for network interface card (NIC) teaming.
Click Configuration, then Networking and select the Properties link to the left of the Virtual Switch configuration. This action opens the vSwitch0 properties window. Select the correct Properties link, because the Networking tab features two links. (Avoid the link in the upper-right corner of the tab.)
Figure 3
Configure the vSwitch properties. (Click image for an enlarged view.)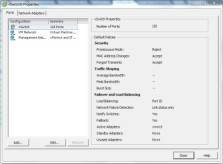 In the next window, click on the Network Adapters tab, which displays the adapters that are currently connected to the virtual switch. (There is one adapter by default.) Click Add to open the Add Adapter Wizard.
Figure 4
From the Add Adapter Wizard, you can select additional adapters to configure into a bridge. (Click image for an enlarged view.)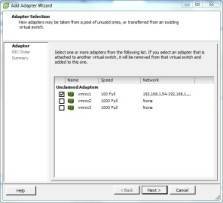 In the Add Adapter Wizard, there are several network interfaces. If the physical networking has been set up correctly, the desired interface will be in the same IP subnet as the adapter on the virtual switch.
It's easy to recognize: One adapter has the same IP subnet configuration. Select this adapter and click Next. If you don't see an adapter with the correct address assignments, the adapter probably wasn't patched to the proper physical network. In this case, fix the physical patching of your network before you proceed.
Now you will see the Policy Failover Order, where you can specify which adapters are configured as active or in standby. For optimal performance, VMware offers two active adapters by default, which doubles the bandwidth on the network and provides fault tolerance.
If you want one adapter configured as a standby adapter, select it and click Move Down, which puts it under the Standby Adapters. After making your choice, click Next. In the final screen, click Finish to complete your configuration.
Figure 5
When connecting more than one physical adapter to a virtual switch, make them all active to achieve the best possible performance. (Click image for an enlarged view.)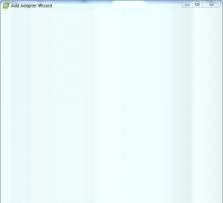 At this point, you will arrive back at the main screen. There will be two physical adapters connected to the virtual switch, which creates a level of network redundancy on the network interface.
Figure 6
There are two physical adapters connected to the virtual switch, which provide network redundancy. (Click image for an enlarged view.)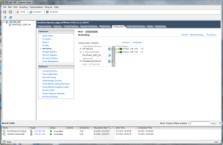 Now it's time to test your network redundancy: On the management workstation, open a continuous ping to the VMware host's management interface and physically disconnect one of its network cables.
You should see the ping packets continuously sent without any problems. At the same time, the disconnected physical adapter is marked as failing in the vSphere Client Networking interface. Congratulations. Your network redundancy test has succeeded!
Figure 7
If a network card fails, traffic will continue on the redundant network. (Click image for an enlarged view.)