Manage
Learn to apply best practices and optimize your operations.
Creating a VMware vSphere guest OS: What's new
Since VMware vSphere offers increased functionality over ESX 3.5, there are some small but significant changes to the guest OS installation process.
When you create a virtual machine in the next release of VMware ESX in vSphere, you'll notice a number of changes and improvements to the process. There are more OS options and more network adapter choices and you can create thin-provisioned disks, for example. In this tip, I'll discuss how the steps involved in creating a new guest OS on a host VMware ESX server have changed, complete with screenshots.
If you choose a Custom install, you'll first have to select either virtual machine (VM) version 4 or 7. Version 4 can be used for backward compatibility with ESX 3.x and Server 1.x. Version 7 is specifically designed for the new edition of ESX and will work with Server 2.0 as well. Why did VMware go from 4 to 7? Probably to bring it in line with Workstation, which is currently at version 6.5 and the next release will presumably be version 7. If you choose a typical installation instead of custom, the default is Version 7.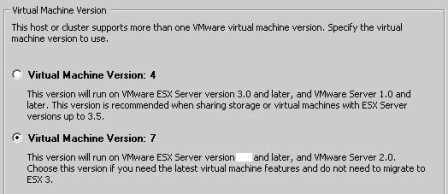 The Guest Operating System Selection screen has more OS choices than in the previous version of ESX. There are more Linux distributions and the "other" category now has specific OSes listed instead of just Other 32-bit or Other 64-bit. This selection screen does not install an operating system for you, but is instead used to set appropriate default values in the wizard, such as the amount of memory needed, to adjust settings for optimal performance and to work around special behaviors and bugs within a guest operating system.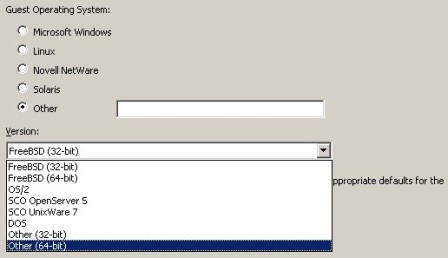 The screen for selecting the amount of memory for your guest OS is a bit different, with a new colorful slider.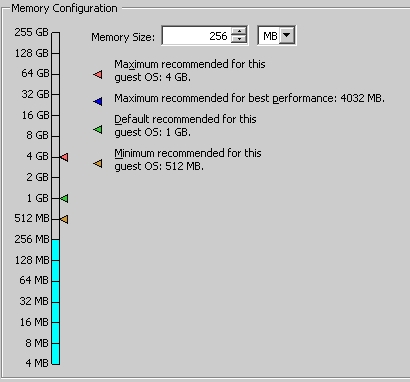 You have more choices for adding a network adapter to your guest OS. The choices that are displayed are based on the OS type of the VM, and there is a new VMXNET version 3 adapter in this release.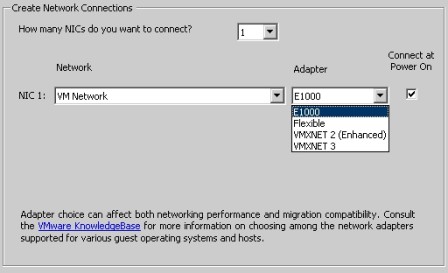 There are also more SCSI adapter types to choose from. In addition to the standard parallel adapter types -- BusLogic and LSI Logic -- you can now select a LSI Logic SAS (serial-attached storage) or VMware paravirtual. The VMware paravirtual adapter is a higher performance adapter that is only supported on select OSes (Windows 2003 and 2008, and Red Hat Enterprise Linux 5) but can't be used with certain features, such as high availability (HA) and Distributed Resource Scheduler (DRS).

When creating a new virtual disk for your guest OS, you now have the option to create a thin-provisioned disk. Previously you could only create thin disks, which allocate disk space on demand using the command-line vmkfstools utility. Thin disks start out small and grow as disks' blocks are written to inside the guest OS.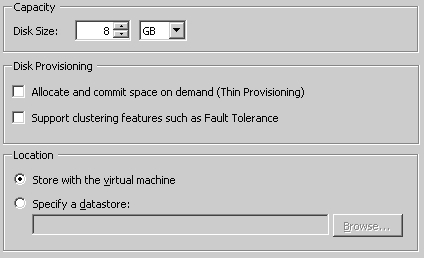 In the virtual disk advanced options, you can now choose between using an Integrated Drive Electronics (IDE) or SCSI disk for your guest OS. Previously only SCSI disks could be used with ESX hosts. An IDE disk uses the standard IDE ATAPI controller that is also used for the virtual CD/DVD drive. If you choose the IDE type, the SCSI adapter that you previously chose is automatically removed when the VM is created.

Once you create a new guest OS you can edit the settings for further customization and change some of the hardware that you can't access when you initially create the guest OS. The video adapter has settings that you can adjust for more advanced configuration, including setting the amount of RAM allocated to it, the number of displays, and the resolution and color depth. This isn't particularly useful for server operating systems and is probably intended to give virtual desktops better graphics capabilities. Previously the video adapter was hidden and non-configurable.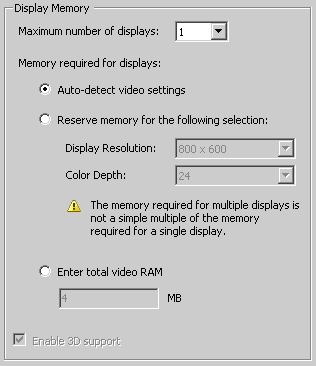 You'll also see that there's a VM Communication Interface (VMCI) device that supports fast and efficient communication between a guest OS and its host server, or between multiple virtual machines on the same host. This feature was included as an experimental feature with VMware Tools in Workstation 6.0.x but was deprecated in Workstation 6.5. You can read more about this feature at VMware's website.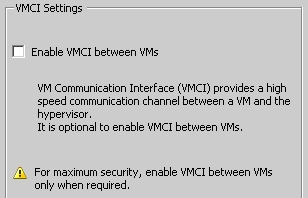 There is a new option to display all of the guest OS's additional hardware that is normally hidden and non-configurable. This includes IDE and other controllers as well as the keyboard and mouse.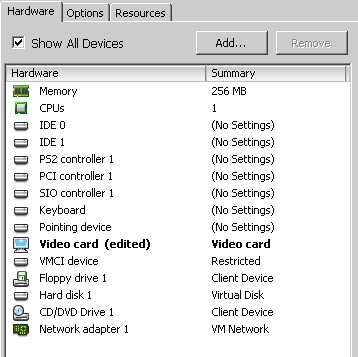 If you add a new device, you can now create a USB controller, which allows you to attach USB devices (i.e., removable storage, license key fobs [built-in security authentication mechanisms] that are connected to your host server to a guest OS. Previously USB devices, could not be used with guest OSes.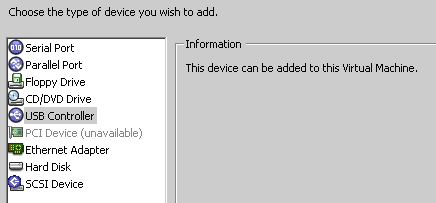 In the Advanced Options section of the guest OS settings you can enable the memory hot-add and CPU hotplug features. These features will only appear based on the guest OS type you previously selected, as these features are not supported on all operating systems. The supported operating systems include Windows Server 2003 Enterprise and Datacenter, Windows Server 2008 and certain Linux distributions. However, Windows OSes only support memory hot-add; depending on which Linux distribution you select, it may support only memory hot-add or both features.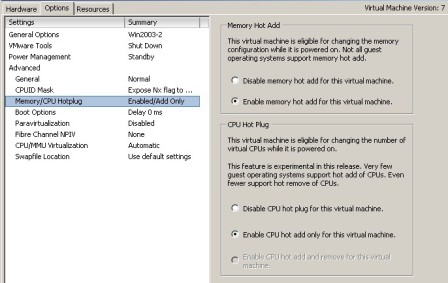 Once you enable the memory hot-add feature, you can adjust the guest OSes memory size while it's powered on if the VM operating system supports it.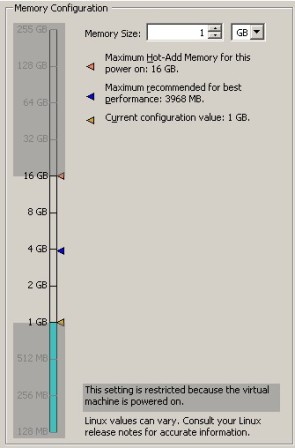 As you can see, there are many new features available for creating guest OSes in the next release of ESX.
| | |
| --- | --- |
| | Eric Siebert is a 25-year IT veteran with experience in programming, networking, telecom and systems administration. He is a guru-status moderator on the VMware community VMTN forums and maintains VMware-land.com, a VI3 information site. |