Creating and using VMware ESX Server templates
ESX Server templates save time by enabling IT admins to quickly deploy copies of a "golden image" of a virtual machine.
VMware ESX Server templates can be a time-saving feature for virtualization administrators as they allow you to...
Continue Reading This Article
Enjoy this article as well as all of our content, including E-Guides, news, tips and more.
clone, convert and deploy virtual machines. Understanding how templates work is vital when it comes to reaping the benefits of virtualization, which I'll show you how to do in the course of this tip.
A template is a "golden" copy of a virtual machine (VM) organized by folders and managed with permissions. They're useful because they act as a protected version of a model VM which can be used to create new VMs. As a template is the original and perfect image of a particular VM, it cannot be powered on or run.
In your VMware ESX virtual machine inventory, if you right-click on any VM in your inventory, you will see the following options: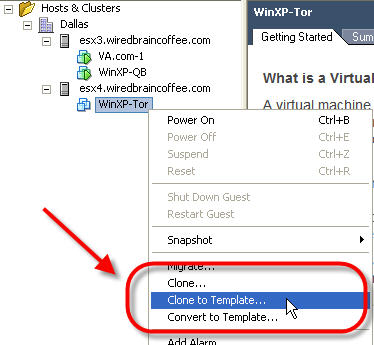 Notice the three circled options in red: clone, clone to template, and convert to template.
Cloning replicates the virtual machine.
Clone to Template and Convert to Template, however, are very different.
Once a template is created, it disappears from the normal Hosts and Clusters inventory and is only available in the Virtual Machines and Templates inventory option (see below).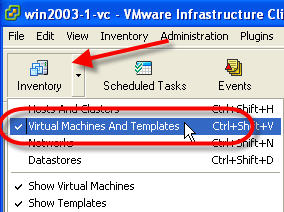 Here is what the template looks like: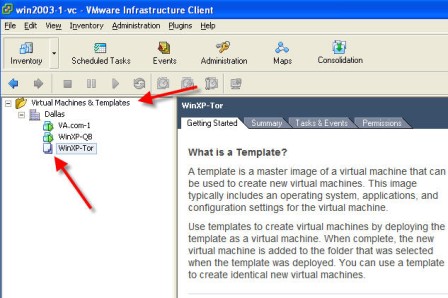 Notice the different icon for the template – it resembles a sheet of paper.
Creating a new template
There are two ways to take an existing VM and turn it into a template. You can convert it to a template, or clone it to a template.
If you choose the convert to template option (see below), you are taking an existing VM and converting it into a template. You will no longer be able to use the selected VM, as you are electing to change it from a working virtual machine to a template by which others will be created. It can only be cloned and deployed as a new VM.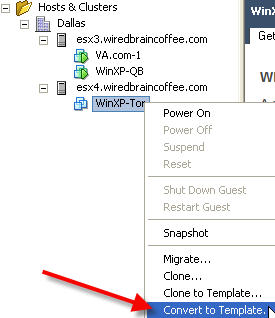 If you want to continue using the VM that you would also like to make a template out of, you can clone it to a template. As soon as you make this selection, you are given the option below where you name the new template and choose which folder/data center where you want the template stored.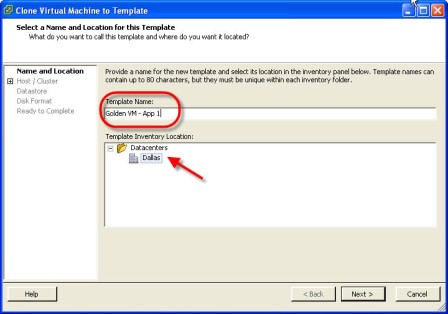 Then, you choose which host or cluster you want the template deployed on.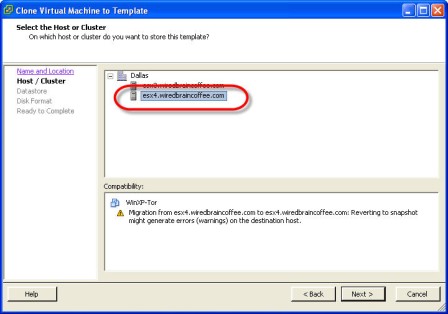 Next, select the datastore that you want the template stored in.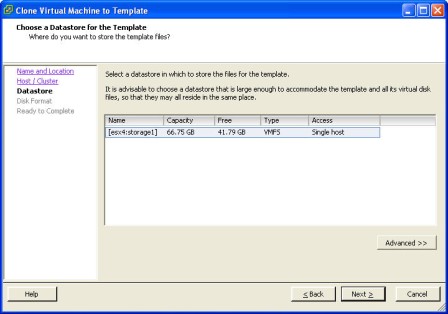 You can choose to store the template in a normal or compact mode. If you plan on converting this template back to a VM, you should choose normal.
Finally, click Finish to create the new VM. Here are our results: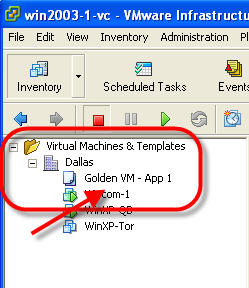 Creating cloned virtual machines from a template
To use the "golden" template to create a cloned virtual machine, right-click on the template and select Deploy Virtual Machine from this Template.
The wizard will ask you what you'd like to name the new VM, where you want to store it, and so on. Upon completion, it will look like this: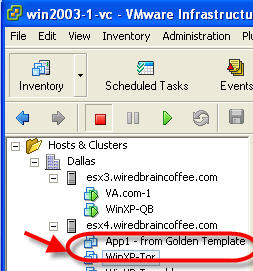 Conclusion
Using templates can be a time-saving feature. With permissions, you can allow power users or junior administrators to deploy new VMs from a template. Once you've mastered how to use templates, you can create virtual libraries containing all of your golden VM images and use them to quickly deploy new VMs.
More on VMware server management
About the author:
David Davis (CCIE #9369, VCP, CWNA, MCSE, CISSP, Linux+, CEH) is the Director of Infrastructure at Train Signal, Inc. He has written hundreds of articles and six video training courses – including the Train Signal VMware ESX Server video training series. His websites are Happy Router.com and VMwareVideos.com.