Evaluate
Weigh the pros and cons of technologies, products and projects you are considering.
Exploring lesser-known VMware Infrastructure Client capabilities
While VMware Infrastructure Client has better-known management uses, this tip offers several lesser-known configuration and administration functions available to VMware admins.
The VMware Infrastructure Client (VI Client) is the application in which you will spend most of your time as a VMware administrator. While still in version 2.5, the VI Client offers many features, including new functions of which even experienced VMware admins haven't yet taken advantage. In this article, I'll discuss the various options for acquiring the VI client, ways that the VI Client can help you, and its limitations.

Obtaining the VMware Infrastructure Client: A quick review
There are a number of different methods for obtaining the VI Client. You can install the VI Client off of the VMware VirtualCenter CD or install it from the VMware Server 2.0 installation program files. In the beta version, however, the VI Client can currently only manage VMware Server 2.0 servers as it is a modified VI Client.2. You can download the VI Client from a VirtualCenter Server:
Go to a Windows UNC path to the VC Server like \\virtualcenter
You can also download the VI Client from an ESX Server by going to the ESX server web page like http://esx3
Once you have the VI client, it is quick and easy to install; just don't try to install it on a 64-bit Windows Vista system.

The many uses of the VMware Infrastructure Client
Most everyone knows that, in general, you can administer and configure VMware ESX Servers with the VI Client. This includes the ability to administer features like distributed resource scheduler (DRS), High Availability (HA) and VMotion. New virtual guests can also be added via the VI client.

There are many more functionalities available that many VMware admins don't know about. You can administer and configure: a standalone VMware ESX Server, a virtual data center by connecting the VI client to VMware Virtual Center, and a VMware Server 2.0 system. Here is a short list of other functionalities:

Although you may be used to using VMware's Snapshot Manager when using VMware Workstation, you can also create, revert and navigate snapshots with the VI client. While VMware Server doesn't offer access to more than a single snapshot in the VMware Server GUI, you can create, revert, and navigate snapshots with the VMware VI Client. You can take as many snapshots of a guest virtual machine (VM) as you like and use the VI GUI client to navigate these snapshots. This gives you a lot of flexibility when testing upgrades or configuration changes.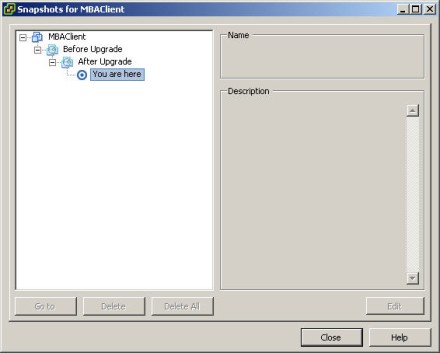 Click to enlarge
Limitations of the VI Client
There are a few limitations of the VI Client. For instance, there isn't Windows Vista 64-bit support. There is a work around for this, but it is difficult to implement and it is still unsupported. Linux support is also lacking. You can use the VirtualCenter and ESX Server web administrative interface on a Linux client, just not the VI Client. Lastly, you can only connect to one ESX Server or one Virtual Center Server at a time.
For more information on the VI Client, please see my article VMware Infrastructure Client 2.5 harnesses third-party plug-in power.
ABOUT THE AUTHOR: David Davis (CCIE #9369, VCP, CWNA, MCSE, CISSP, Linux+, CEH) has been in the IT industry for 15 years. He has written hundreds of articles, six video training courses – including the Train Signal VMware ESX Server video training series. His websites are HappyRouter.com and VMwareVideos.com.

Dig Deeper on VMware new releases and updates