freshidea - Fotolia
Follow these steps for a clean vCSA 6.5 installation and setup
The new VMware vCSA 6.5 is a departure from previous versions in that it runs a Photon OS and allows users to launch the installer while running Windows, Linux or Mac.
VMware vCenter Server Appliance 6.5 is a brand new vCenter Linux appliance running a Photon OS. This is a major...
Continue Reading This Article
Enjoy this article as well as all of our content, including E-Guides, news, tips and more.
shift from previous versions, which traditionally used SUSE Linux Enterprise Server. The vCenter Server Appliance 6.5 ISO image has the tools necessary to deploy the vCenter Server, as well as migration tools that allow you to migrate from previous releases of vCenter on Windows -- or on vCenter Server Appliance -- to vCenter Server Appliance 6.5. VCenter Server Appliance 6.5 also makes it possible to launch the installer from your management station while running Windows, Linux or Mac, a feature that was missing from previous releases.
To start a clean vCenter Server Appliance 6.5 (vCSA) installation, you need at least one ESXi host. This host can run on ESXi 6.5, but it is also compatible with earlier versions. You must also perform forward and reverse Domain Name System (DNS) lookups for records created on your DNS server.
The vCSA 6.5 download is an ISO image and the installer is located within the ISO image. So, depending on the OS you're working on, you can choose from Windows, Linux or Mac.

After you execute the installer, a screen will appear giving you different installation, deployment, migration and restoration options. The Install option installs vCSA 6.5 with Platform Services Controller (PSC) on the same VM, or deploys a new PSC. The Upgrade option upgrades the existing vCSA, and the Migrate option migrates from the existing vCenter Server running on Windows to vCSA 6.5. Finally the Restore option allows you to restore from a previously-created backup; once everything is up and running, you can back up vCSA 6.5 so, if necessary, you can restore from backup at a later date.
The vCSA 6.5 installation process is straightforward and occurs in two stages. Stage 1 deploys the appliance according to the options you entered during the installation wizard; Stage 2 goes a step further, configuring network time, remote Secure Shell (SSH) access, username and password.
On the next screen, shown in Figure B, select a deployment type. Indicate whether you need to install PSC with vCenter Server or whether you want to deploy PSC as a separate VM. You can also deploy the vCSA by itself, but only if the PSC is already up and running as an external PSC within your data center.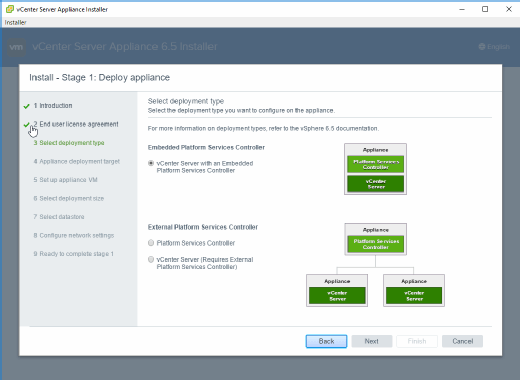 Next, enter the details of your deployment into the installation wizard; you'll need to enter either ESXi or vCenter Server.
You might receive a certificate warning if your ESXi is using the default untrusted Secure Socket Layer certificate. If the ESXi host is one of your hosts, go ahead and accept the certificate.

The next screen allows us to specify deployment size. VCSA 6.5 has the same scalability as a Windows version of vCenter, which was not the case in previous releases.
Compared to the Windows version of vCenter Server, vCSA 6.5 integrates more features. For example, vCSA 6.5 offers a built-in VMware Update Manager, while Windows vCenter Server requires a separate VM and installer.
Once you've selected a deployment size, you need to specify storage. The vCSA 6.5 installation wizard gives you the option to enable thin-provisioned disks so that the data store will only allocate enough space for the installation.
On the next screen, configure network settings. In order to do this, your DNS server must be properly configured and your DNS records properly created so that the forward and reverse resolution works.
The next screen, shown in Figure C, reviews the configuration settings. If necessary, you can go back and modify these settings. However, once you hit Finish, you won't be able to make any additional modifications until the deployment is complete, so make sure you've carefully validated your information every step.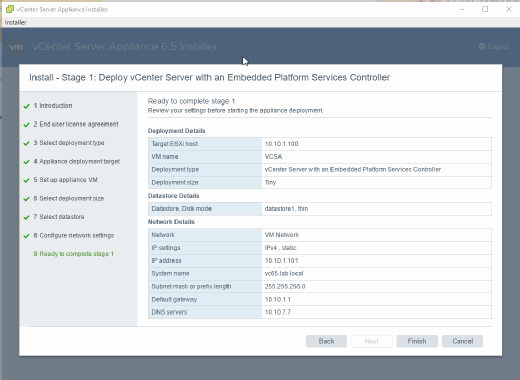 Now that the system is deploying and installing the different packages within the Photon OS, you're free to sit back and relax. Depending of the speed of the underlying system, deployment can take either a few minutes, a half hour or even longer.
At the final screen click Continue to launch Phase 2 of the deployment process.
The next screen informs you that, from here on out, that you'll be setting up the appliance. Click Next.
Next you will configure time synchronization and SSH access. The option to synchronize time with Network Time Protocol servers is selected by default, but you can change that and chose to synchronize with the ESXi host instead. The next step is to configure single sign-on options, a username and password, and a site name.
Finally, the wizard will display an overview of your settings. Review everything carefully because once you hit Finish, you won't be able to go back.
The configuration should take about fifteen minutes. Once complete, it'll present you with a screen from which you can launch your web browser and manage your vCenter.
The installation and configuration of vCSA 6.5 is very straightforward. If you meet the initial requirements and set up your DNS correctly, you shouldn't encounter any issues. VCSA 6.5 offers users the long-desired ability to use any OS for deployment. The vCSA 6.5 deployment may be fully web-based, but vCenter management still relies on the Adobe Flex client which, as we all know, is slow. You could use the HTML5-based web client, but it lacks a lot of configuration features, so when it comes to practical options, you're left with the vSphere Web Client, as the old C# client can only be used for single host management and has a limited set of features.