How to choose the right VMware certification track
VMware has made more changes to its certifications. Before you can understand all of the changes, it's important to know how to get started.
If there is one constant with VMware, it's change. The software company made another tweak to its certification...
Continue Reading This Article
Enjoy this article as well as all of our content, including E-Guides, news, tips and more.
program in the first quarter of 2016. In this article, we explore what's new and help explain which VMware certification track is right for you.
Last year, VMware announced a change in its advanced certification. In the vSphere 5 Certification Roadmap, there were two tracks: VMware Certified Advanced Professional -- Data Center Administration and VMware Certified Advanced Professional -- Data Center Design. Last year, VMware created a new certification called VMware Certified Implementation Expert (VCIX) that consolidated the two VCAP options. However, in the vSphere 6 version of certifications, the two VCAP options have been reinstated.
Now in VCAP 6, candidates can pass an exam for VCAP Design and be certified as an advanced professional in Design or pass an exam for VCAP Deployment and be certified as an advanced professional in Deployment. The good news is that when you pass both you are certified as a VCIX.
You might have noticed in the previous paragraph that we were speaking about the Deployment Certification, which is the new name of what was previously called the Administration certification in the VCAP track.
First, let's start at the bottom of the certification food chain and help determine which VMware certification track is right for you.
Acquiring your first VMware certification
If you don't have a certification with VMware then you can choose between VMware Certified Associate (VCA) or VMware Certified Professional (VCP). It's important to note that VCA is not a requirement for earning your VCP Certification. You can start with VCP right away if you want to.
The VCA certification is not too technical and is targeted at professionals who need to have a good understanding of what VMware technologies are all about without having to implement them themselves. For example, if you are going to be involved in a virtualization project and are required to understand what the virtualization specialists mean, such as vMotion, Distributed Resource Scheduler, High Availability and Distributed Switches or the features of NSX and vRealize Automation, then the VCA may be right for you. The free eLearning modules available by VMware for the fundamentals of each available technology track can help you better prepare for this job and the VMware Certified Associate certification will allow you to demonstrate that you have what it takes for this type of job.
The VCP certification requires a much higher skill level. Many candidates who have previously taken exams with other vendors underestimate the technical level of this VMware certification. You really need to study the materials described in the exam's blueprint, and you are required to attend a training course. You should also have experience working with the VMware product of your chosen technology track -- between six and 12 months is the minimum.
Most potential candidates who attend a required training without any previous practical experience and try to take the exam fail at their first attempt. On the other hand, administrators with some years of experience who choose the right training can get away with taking the vSphere Foundations exam not long after the training, and the VCP exam for their chosen track shortly after. Some studying will be required to fill the knowledge gaps that will likely exist.

Choosing a certification track
All of VMware's certifications are available in four technology tracks: Data Center Virtualization (DCV), Desktop and Mobility (DTM), Cloud Management and Automation (CMA) and Network Virtualization (NV).
Choosing the right VMware certification track shouldn't be too hard. Taking a course that fits the field you're currently working in makes sense, but you may also want to become proficient in a new field to make you a better candidate for a new job. If you are a vSphere admin, then DCV is the route to take. If you are managing virtual desktops and working with other end-user computing products, such as Mirage, then DTM is the way to go. When working with vRealize Automation and related cloud management products, your choice would be CMA. And finally, for those working in the networking administration field who specialize in NSX, the NV route is right for you.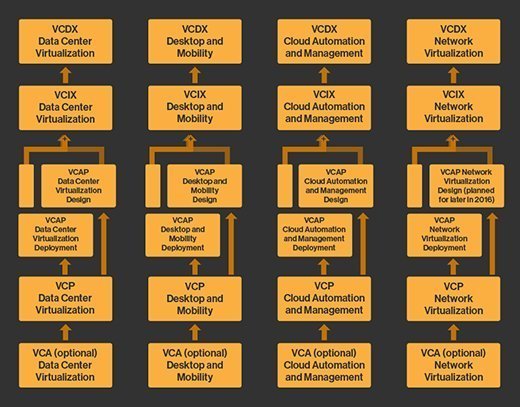 Preparing for the right VMware certification track
Since VMware first introduced its certification tracks, it has always required candidates to attend at least one official training course. Many candidates for the VCP certification think they must attend the Install, Configure, Manage (ICM) training for vSphere or another track, such as Desktop and Mobility, Cloud Automation or Network Virtualization. This is not the case. There are many courses listed on the VMware Certification website per VCP certification track that will fulfill the course requirement. And you do not have to start with the ICM course if you are new to the specific VMware certification track you chose.
For example, if you are an administrator with a few years of experience of working with vSphere, then you are better off attending the vSphere Optimize and Scale course or the vSphere Troubleshooting course.
But please, be honest and realistic when choosing the right course. Sometimes potential candidates overestimate themselves and think they know everything and attend a training that is above their skill and knowledge level. Look at the course requirements listed with each training course and attend the one that suits you. If you're not sure, discuss it with a specialist at the VMware Authorized Training Center.
For VCAP certifications, there is no course requirement. In theory, you can book the exam and give it a go. It is, however, probably a good idea to prepare for the exam with one of the available training courses or through the VMware Learning Zone. Where VMware offers training videos and exam preparation materials The Learning zone is available as a either a standard or premium subscription.
VMware has also introduced new courses for each of the technology tracks. These courses are named Design and Deploy and are a combination of design topics with design cases and deployment topics with hands-on labs. For all four tracks, the courses are five days and are currently available.
All four courses can be found on VMware's myLearn website.
Dig Deeper on VMware Certified Professional (VCP and VCAP)