Sergey Nivens - Fotolia
How to install and configure the vSphere Replication appliance
VMware vSphere Replication can help copy virtual machines from one host to another, or even one data center to another. Here's how to install and configure it.
The VMware vSphere Replication appliance gives users the option to replicate virtual machines from one ESXi host...
Continue Reading This Article
Enjoy this article as well as all of our content, including E-Guides, news, tips and more.
to another or from one data center to another. This technology is independent of any hardware, so you can essentially replicate a VM from anywhere to anywhere -- from local data store to a remote host's network file system or iSCSI data store. VMware vSphere Replication is compatible with VMware VSAN, traditional SAN and local storage.
Traditional hardware SAN replication basically doubles the cost because you use two identical SAN devices, one at each site, and replicate at the storage layer. It also requires dedicated logical unit numbers (LUNs) for the VMs that need to be replicated because it copies the entire LUN to the disaster recovery site.
On the other hand, vSphere Replication uses hypervisor snapshot technology which is independent of hardware. VSphere Replication also and supports five minute Recovery Point Objective (RPO) if both the source and target sites use VSAN.
VSphere Replication supports Microsoft Volume Shadow Copy Service and Linux file system quiescing for replicated VMs.
In order to use vSphere Replication, you must deploy the vSphere Replication appliance on an ESXi host using the vSphere Web Client. The vSphere Replication appliance, which is a Linux VM, registers as an extension with the corresponding vCenter Server instance.
There are several architectural options where you can run vSphere Replication, though vCenter Server is required. You can set up replication between:
Two data centers, each managed by one vCenter Server;
Two clusters within the same site, from one cluster to another -- with a single vCenter Server as management;
From multiple source sites to a shared remote target site; and
From a local data center to vCloud Air Disaster recovery virtual data center.
You can also replicate a VM between data stores at the same vCenter Server. In this particular case, a single vCenter Server manages hosts at the source and at the target. A single vSphere Replication appliance is deployed on the single vCenter Server. You can add another vSphere Replication appliance to replicate to other clusters.
VSphere Replication requirements and installation
The good news is that vSphere Replication is included in all vSphere licensing packages, except vSphere Essentials. You are not limited on the number of VMs you can replicate. However, the five minute RPO is limited to 100 VMs per VSAN cluster.
As an example, we'll only set up a vSphere Replication instance that will replicate VMs within the same vCenter Server environment, between two ESXi hosts, from local storage to a VMware VSAN data store.
After downloading the vSphere Replication appliance as an ISO file, start the deployment by deploying the Open Virtualization Format file located in the bin directory.
The vSphere Replication appliance contains an embedded vSphere Replication server that manages the replication process. The installation process starts with the usual questions, such as deciding where you want to deploy the appliance (host/cluster) and which CPU configuration you want to choose from -- either 2 vCPU or 4 vCPU.
You also have to select your storage settings (Figure B).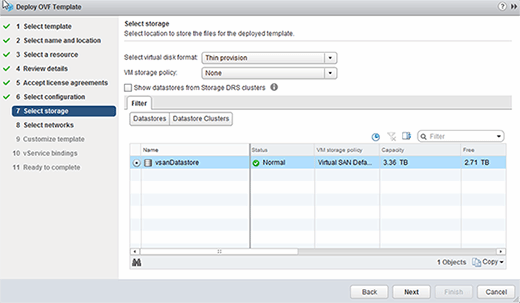 The next step focuses on networking; you must choose which network to use and assign a Dynamic Host Configuration Protocol or static IP address for the appliance, as well as configure the Network Time Protocol. Last, but not least, you need to set up a root password.
The next step is a short verification process. You should get a green check mark in order to continue with the assistant.
After finishing with the installation assistant, you should see a progress bar on your vSphere client that shows the installation and deployment progress.
Once that is complete, the next step is to start the VM and wait until it boots up for the first time. This may take some time as the appliance is registering and configuring the different services and components.
You need to use a supported browser to connect to the vSphere Replication appliance. The URL for the Virtual Appliance Management Interface is as follows:
https://vr-appliance-address:5480
Enter the credentials of a user with administrator privileges to vCenter Single Sign-On. Note that, initially, only the user "[email protected]" has these privileges. Click the Save and Restart Service button (Figure C).
Next, log out and log back into the vSphere Web Client. When you return to vSphere Replication, you should see that it's listed as "Enabled (OK)."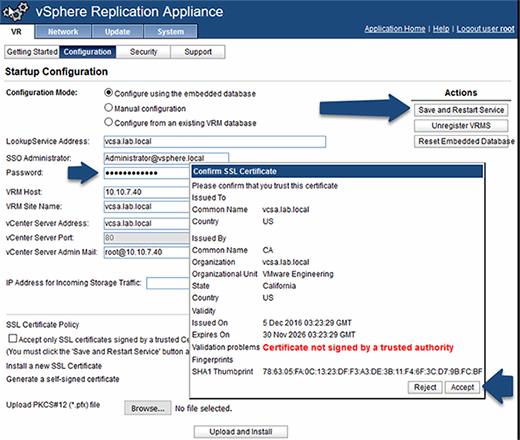 Dig Deeper on Backing up VMware host servers and guest OSes