How to put the VMware View client on a USB drive with VMware ThinApp
Providing View users with a USB version of their virtual desktop can eliminate some common objections to desktop virtualization: it doesn't require users to install software on their desktops, it is easy to use and secure, and it enables mobility. In this article we provide step-by-step instructions on how to create a ThinApp version of the View client, which you can then put on a USB drive and give to your mobile users.
Creating a ThinApp package of the VMware View client enables end users to easily connect to their virtual desktops....
Continue Reading This Article
Enjoy this article as well as all of our content, including E-Guides, news, tips and more.
ThinApp's technology can eliminate some common objections to desktop virtualization: it doesn't require users to install software on their desktops, it is easy to use and secure, and it enables mobility.
This approach to distributing the VMware View client makes sense in several scenarios:
You want to deliver a virtual desktop to users without their having to install anything on his machine (a ThinApp package will not install on a local device).
You want to run the VMware View client anywhere, quickly and easily. In this case, you would put the ThinApp View client package on a USB drive. Simply pop the USB drive into the computer, launch the View client and connect.
You currently deliver applications to your remote employees via a secure and employer-issued USB drive.
You want users to be able to access the VMware View client from a hotel computer terminal. (In most cases, you can't install software on hotel kiosks.)
You perform virtual desktop infrastructure (VDI) demos and want a ThinApp version of the VMware View client for your demonstrator's tool belt.
In addition, when you create a ThinApp package of the VMware View client, you can preconfigure the VMware View connection server so that end users don't need to remember an IP address or host name to connect. They can simply press the Connect button.
Editor's note: If you're unfamiliar with VMware ThinApp, check out our article on what VMware ThinApp is and how it works.
The steps to package the VMware View client with ThinApp are pretty straightforward.
1. Find or create a clean Windows XP virtual machine (VM) and install ThinApp.
2. Take a snapshot.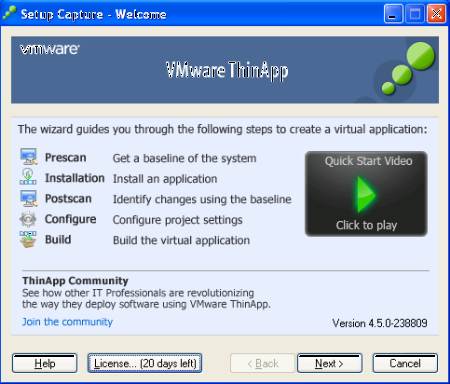 3. Run a ThinApp "prescan," which scours an OS before the installation of the View client software.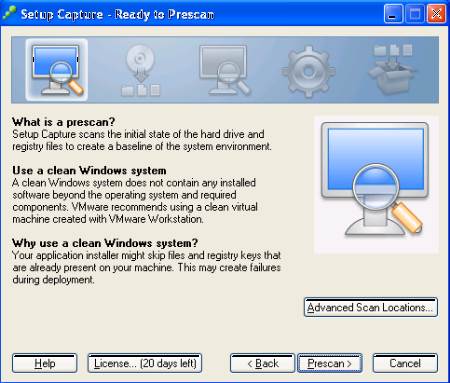 4. Once the prescan is complete, start the VMware View client installation.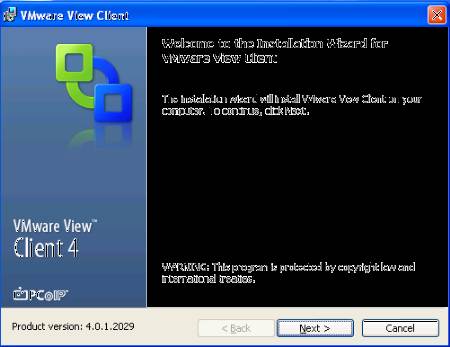 5. The installation process is relatively simple; there are only a few options in the VMware View client. Note: Although you'll see an option to select USB redirection, proceed with caution, because USB redirection does not work. ThinApp doesn't support interaction with kernel mode drivers, and the component of the VMware View client that provides USB redirection requires this level of access.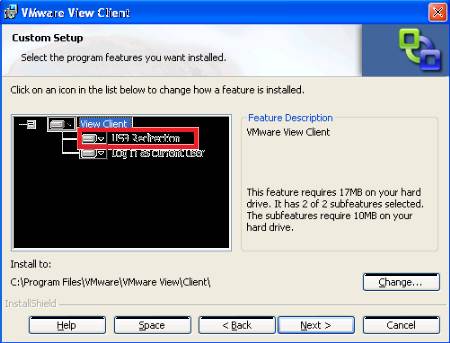 6. Next, the View client installation asks you to restart your machine. Click Yes.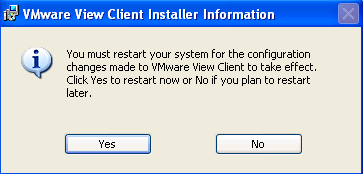 7. Once the virtual machine comes back online, select the Continue radio button to proceed with the Installation Process and click Next.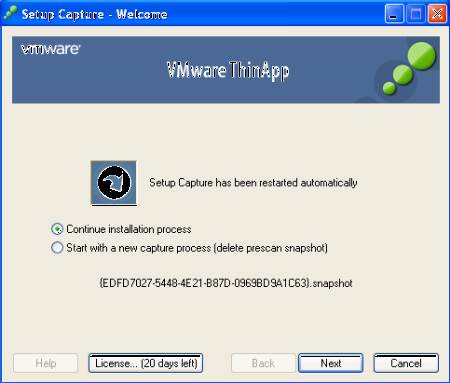 8. Next perform a "postscan," which compares the original state of the virtual machine with its current state, thus locating any new registry entries, files and so on.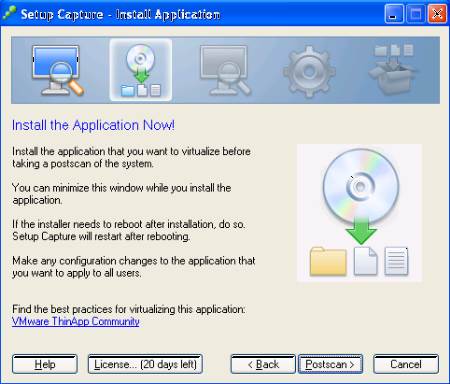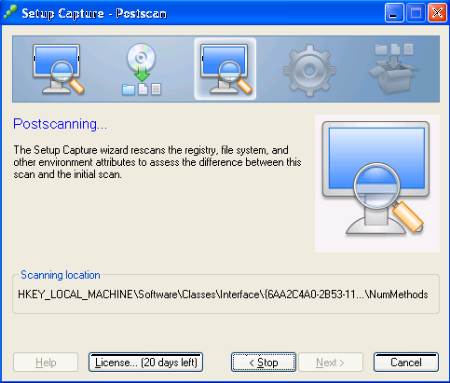 9. The wizard asks you to select the entry points, or executable files. You need only the VMware View client executable file, so check the box next to VMware View Client.exe and click Next.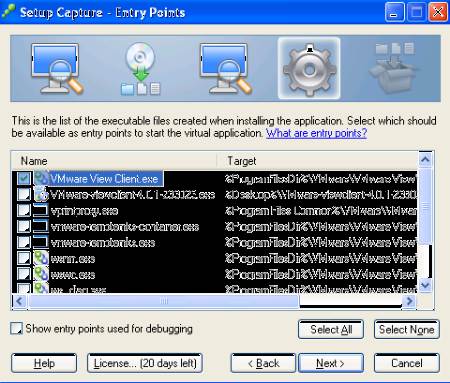 10. The wizard then asks you to set the permissions for which Active Directory groups are authorized to run the VMware View client package. In this example, I selected Everyone.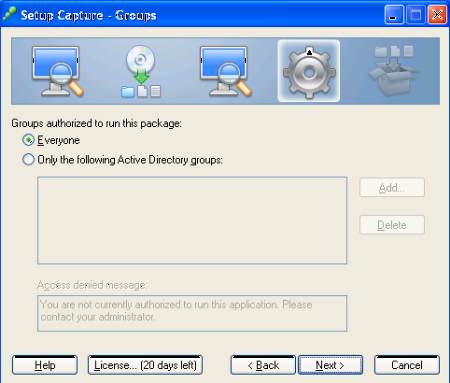 11. Next, select Restricted write access (WriteCopy isolation mode), which prevents the ThinApp package from writing to almost all directories (other than the Sandbox).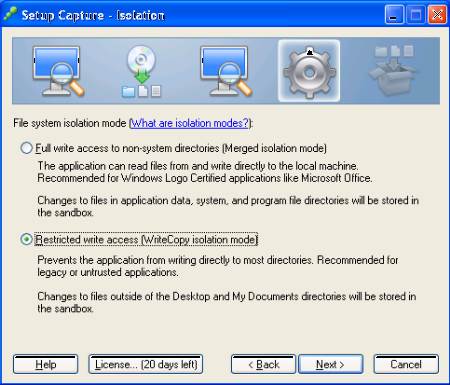 12. At the next screen, name the ThinApp package. I named mine "VMware View Client." Click Next.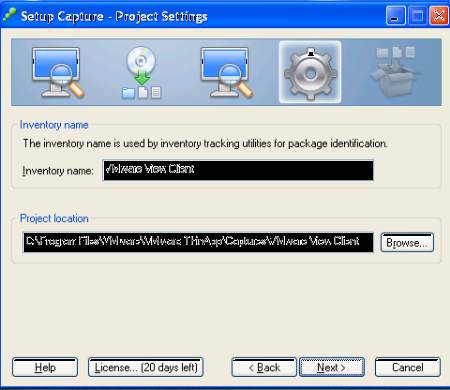 13. Select VMware View Client.exe as the entry point from the drop-down menu, and click Save.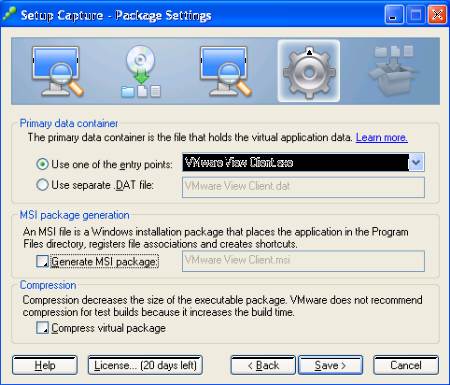 14. Next, you'll get a warning. ThinApp recognizes that you have installed a kernel-level component (USB redirection), and warns you that this won't work (as I mentioned earlier).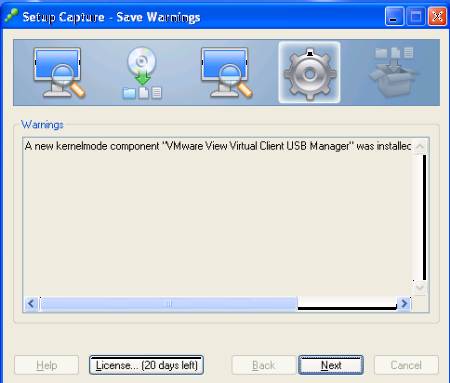 15. On the next screen, click Open Project Folder. Then delete the following directories: %AppData%, %Cookies%, %Internet Cache%, %Desktop% and %History%. You could delete additional directories, but deleting these key ones rid your package of unnecessary junk and make it as clean as possible for users.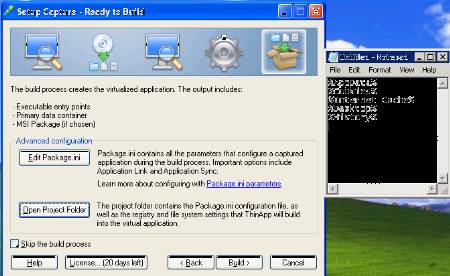 16. Click Build. "Building" should take less than than 60 seconds to complete.
17. If you navigate to the \bin directory on your machine, you should see an executable file. This is your VMware View client ThinkApp package.

Finally, copy the executable file to a network share or USB device. You can now connect from any machine with an Internet connection to your virtual desktop by simply running a ThinApp package of the VMware View client. This package can enhance the lives of mobile users!
ABOUT THE AUTHOR: Jason Langone is a Federal Data Center Architect for INX. He has spoken at VMworld, Green Computing Summit and Virtualization Congress. Langone won the VMware Vanguard Award in 2007 and has architected some of the largest virtualization and cloud computing implementations to date. His solutions have been primarily implemented at Fortune Global 500 and public sector organizations and have received various accolades. Langone's focus remains on designing virtualization and cloud computing solutions in large-scale environments.