carloscastilla - Fotolia
Get started
Bring yourself up to speed with our introductory content.
Image Builder makes it easy to manage vSphere Auto Deploy images
The VMware vSphere 6.5 Image Builder enables admins to create and install ISO images with the vSphere Web Client and manage them with Auto Deploy.
VMware vSphere 6.5 introduces a graphical user interface-based Image Builder utility that allows administrators...
Continue Reading This Article
Enjoy this article as well as all of our content, including E-Guides, news, tips and more.
to create their own vSphere install ISO images through the vSphere Web Client. Previous versions of vSphere only allowed administrators to use PowerCLI to use Image Builder and Auto Deploy.
The command-line-based PowerShell Image Builder is still available, but the GUI edition will likely increase the adoption of Image Builder and vSphere Auto Deploy.
One of the main advantages of the new GUI-based Image Builder is that it shows you which software depots you have, and what packages are in each image. It's easier and less time-consuming to maintain Auto Deploy images because Image Builder shows all of the components in each image. VSphere Web Client also simplifies the process of establishing Auto Deploy rules.
Let's take a look at Image Builder's capabilities, with or without vSphere Auto Deploy.
How to utilize Image Builder
Image Builder can upload VMware software and partner software components into the system or download them directly from the VMware software depot. You can then place the software packages from these uploads in a joint Image Profile and later export them into either an ISO file or a .ZIP file for ESXi host deployments or Auto Deploy.
Image Builder can upload VMware software and partner software components into the system or download them directly from the VMware software depot.
This enables you to build your own ISO image to install hosts with both default VMware software components and third-party packages and eliminates the need to install those packages later. To add third-party software to an Auto Deploy host, first customize the image. All software must be loaded from the image when the host boots with the Preboot Execution Environment (PXE).
Start the Image Builder service on vCenter Server. Even if you don't intend to use vSphere Auto Deploy, make sure that it is enabled, as Image Builder requires it to run. To enable both services, access the vSphere Web Client. From the home menu, navigate to the "Administration" section and, under "Deployment - System Configuration." Locate the list of services shown in Figure A. Configure both services to start automatically so that you can use them right away.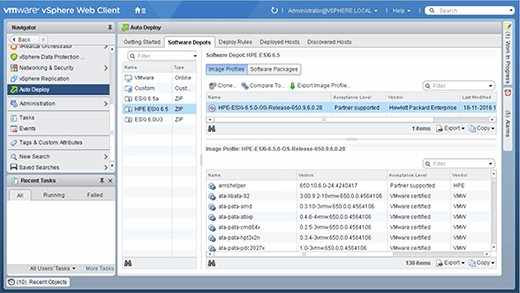 Once both services are running, log out of the vSphere Web Client and then log back in; the new Auto Deploy icon should appear on the vCenter Server homepage.
Image Builder works with software depots, which contain software components such as image profiles and software packages. You can upload or import these software components directly from either the VMware software depot or partner software depots. After you import the components, you can modify them or create custom depots to store your own image profiles with the exact software packages you want. Figure B shows several VMware and partner software depots.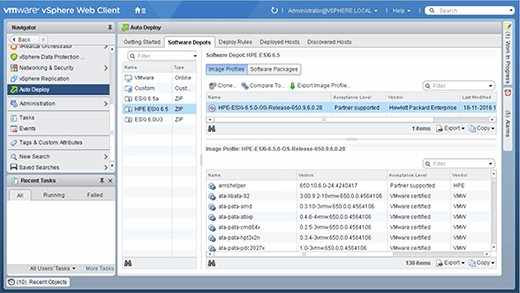 To edit an image profile and add software packages, first upload all of the necessary software components. As you can see in Figure C, I opened the vSphere 6.3 software depot to add software packages. From the drop-down menu marked "Software Depots," I selected the Dell OpenManage software depot and added the Dell OpenManage software package. This creates an image that installs OpenManage onto the ESXi host with each install or with each Auto Deploy boot. You can also upload network interface cards or storage drivers into Image Builder to add drivers to each host.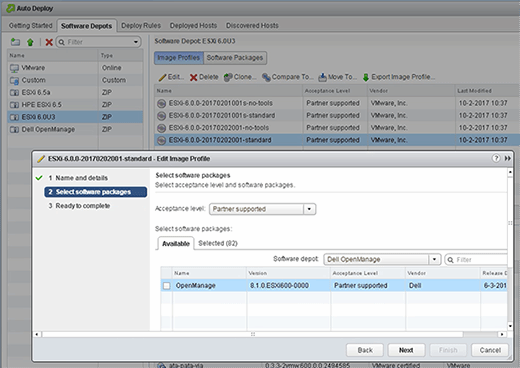 Under the Software Depots tab, look for the Export Image Profile button. If you click this button it will generate either an ISO or a .ZIP file that contains your software packages.
What's new in vSphere Auto Deploy?
The biggest improvement to Auto Deploy in vSphere 6.5 is that you can now manage it from the vSphere Web Client. In previous versions of vSphere, users could only manage Auto Deploy with PowerCLI cmdlets. VSphere 6.5 also allows users to trigger post-boot scripts for Auto Deploy to fine-tune servers.
Auto Deploy needs a set of rules to determine which host needs to use which image. For example, you can use a different image with different drivers for each type of host, or even a completely different image for each vendor based on the vendor's customized vSphere ISO. For my purposes, I created a rule that is enforced on all Dell machines with an IP address in the range of 172.30.150.1 to 172.30.150.80. A server gets an address in that range if you register its message authentication code address with your Dynamic Host Configuration Protocol server to assign an IP address from that range. You can also register that IP address in Domain Name System for both forward lookup so that your host always comes online and shows up in your vCenter inventory with the same fully qualified domain name.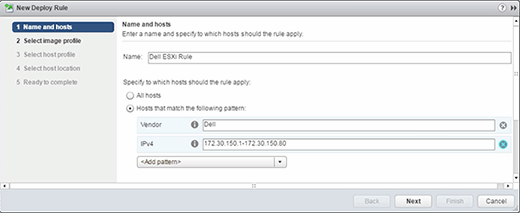 Once you've created a new deploy rule, apply it to your image, host profile and the cluster on which you intend to place hosts.
Auto Deploy stores host configurations with Host Profiles rather than local storage. It can be difficult to get the Host Profile to match your needs for all possible settings for your Auto Deploy configuration.
The new vSphere 6.5 plug-in offers an overview in the Web Client that shows which rule sets all hosts booted with Auto Deploy use. This overview also shows all hosts booted with PXE that do not match the rule set.
VSphere 6.5 also offers a new feature that allows users to upload a custom script to the host that executes content on the Auto Deploy host after booting your image. This makes life simpler if there are specific settings you can't manage with Host Profiles or if there are commands you want to execute on a host after it's booted.
At this point in time, you can't manage these scripts from the same vSphere Web Client plug-in -- instead, you have to add them to your PowerCLI rule set. VMware developers will hopefully add this extra utility to the new deployment wizard in the vSphere Auto Deploy plug-in soon so that users can manage the entire product from one location.
Next Steps
VMware rolls out new features in vSphere 6.5
Configure ESXi time sync with the vSphere Web Client
VSphere 6.5 goes back to basics
Dig Deeper on VMware new releases and updates