Evaluate
Weigh the pros and cons of technologies, products and projects you are considering.
Installing LeftHand's virtual storage appliance in VMware ESX
Installing a virtual storage appliance (SAN) like LeftHand Networks' VSA can reduce costs and help make better use of system resources. Learn about the benefits of LeftHand's VSA and how to install it.
You have guest virtual machines (VMs) and virtual networks with VMware ESX, so why not use virtual storage as well? A virtual storage appliance can reduce costs and make better use of system resources by transforming unused storage space on virtual servers into easy-to-manage iSCSI storage area networks (SANs). Virtual storage appliances can save you the cost of an expensive dedicated SAN.
Virtual storage appliances also enable you to perform more advanced VMware Infrastructure tasks, such as VMotion for live server migrations and Distributed Resource Scheduler (DRS) for load balancing and failover -- again, without requiring expensive, complex external storage.
Over the years, I have used SAN Openfiler, an open source virtual storage appliance, but non-open source options such as Lefthand Network's Virtual SAN Appliance (VSA) are also compelling choices. VSA works well with VMware and uses advanced infrastructure features as well. This tip outlines how and why to use LeftHand VSA.
Why use LeftHand's VSA?
While Lefthand Network's Virtual SAN Appliance (VSA) isn't open source or free, there are several reasons to consider using it over alternatives like Openfiler:
VSA is a VMware-certified appliance.

As mentioned previously, because it offers an iSCSI SAN, you can perform advanced VMware Infrastructure features like VMotion, DRS, and others (assuming you have the VMware licenses).

It uses LeftHand's SAN/IQ software, which already runs on LeftHand's physical SAN storage.

VSA provides a centralized management console for all LeftHand virtual and physical storage.

VSA can virtualize the internal storage of VMware ESX hosts then cluster that across other ESX hosts to provide redundancy – eliminating the need for a more expensive physical SAN.

LeftHand's VSA is the first virtual storage appliance certified in VMware's SAN Compatibility Guide for VMware ESX.

With LeftHand's VSA, you can run VMware's Site Recovery Manager (SRM). To see how that is done read the following (and see the sidebar on SRM below).
Installing LeftHand's VSA
To get started with VSA, use the following steps:
1. Download LeftHand's VSA and Centralized Management Console (CMC). You can do so from the LeftHand VSA Eval Web page. I chose to download the Windows version of the CMC. I also found the Quick Start Guide helpful -- which contains tips for each deployment -- as well as the Configuration and Best Practices guide.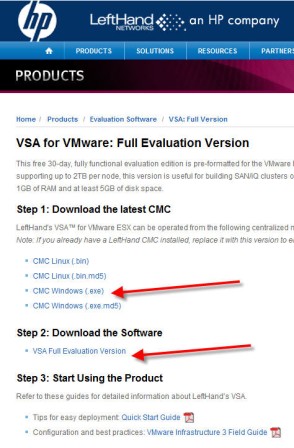 2. Next, I installed the 58 MB CMC.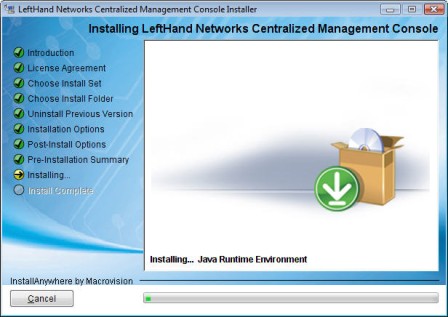 Installing the CMC was easy. I just took all the install defaults and told it to start automatically when it was done with the install.
I should note that for evaluation purposes, you can run Lefthand's VSA on a PC or laptop inside VMware Workstation, VMware Player or VMware Server. The VSA Quick Start Guide includes instructions on how to do so. In my case, I wanted to run VSA inside ESX Server. The VSA Quick Start Guide provides instructions on this process as well.
3. As VSA is available in the Open Virtual Machine Format (OVF), you no longer have to create a new VM, which enables you to get VSA running even faster. I unzipped the VSA zip file I downloaded, navigated to my VMware VI Client, clicked on File -> Virtual Appliance -> Import.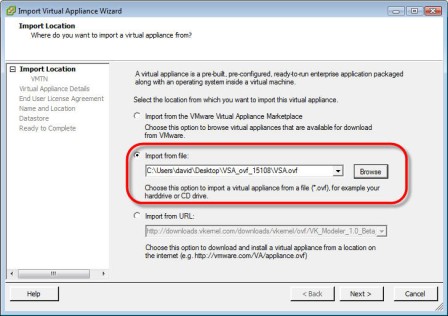 4. I selected the option to import from a file, provided the path to the VSA OVF file and clicked Next.
5. I reviewed the VSA virtual appliance details.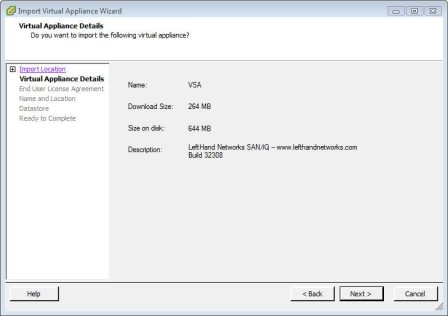 6. Then I accepted the end-user license agreement, gave the new VM the name "VSA-iSCSI," specified that I want to store it on one of my ESXi servers in local storage and clicked Finish.
The import process – which went from my laptop, across my network and to the ESX server, took about 15 minutes for the 250-plus MB appliance.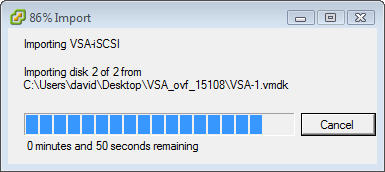 7. Next, I configured the data disk for VSA by adding a new virtual data disk to VSA. For my testing purposes, I chose 30 GB, but you should use the chart in the Getting Started Guide, along with your available disk capacity and expected use to choose your own size. I also had to set this disk to use device node SCSI 1:0 and made it independent and persistent, based on the instructions in the Getting Started Guide.
8. I then powered on VSA and waited for it to boot. As instructed, I typed "start" at the login screen. Using the text menu system, I used the tab, arrows and the Enter key to set a new administrator password and set the VSA to Dynamic Host Configuration Protocol (as this is just for testing). Here is what it looked like: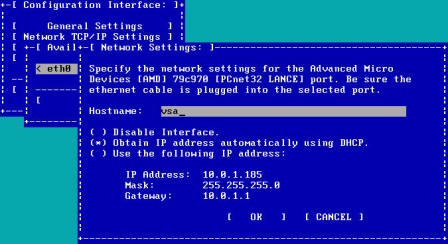 9. From here I returned to the CMC and used the Find Nodes wizard that appears onscreen when the CMC starts. I chose to find my VSA by using the Search by Node IP Address or Hostname. I entered the IP address that is shown in Figure 6 for the VSA and the CMC quickly found the new VSA, as indicated by Figure 7.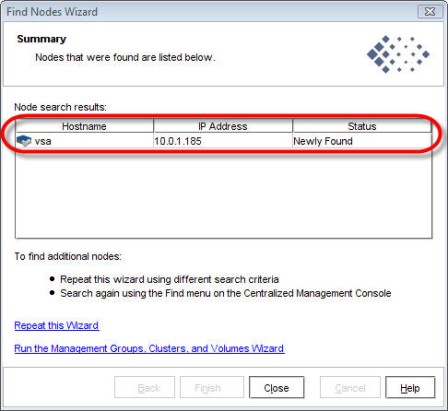 10. The new VSA was listed as an available node, so I expanded the tree and clicked on the VSA.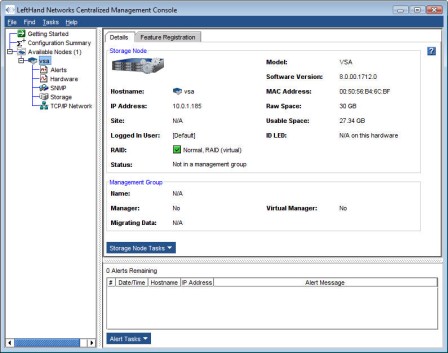 As you can see, RAID is already configured on the 30 GB disk we created.
11. In the next step, we need to get the VSA available to VMware ESX to enable iSCSI. To do so, I used the Management Groups, Clusters, and Volumes wizard in the CMC. With this wizard, I created a new management group with the new VSA inside. Following the wizard, I created a new administrative user, set a NTP server for time sync, selected to create a standard cluster, set a virtual IP address for the new cluster, and created a new volume. Here are the results of the wizard: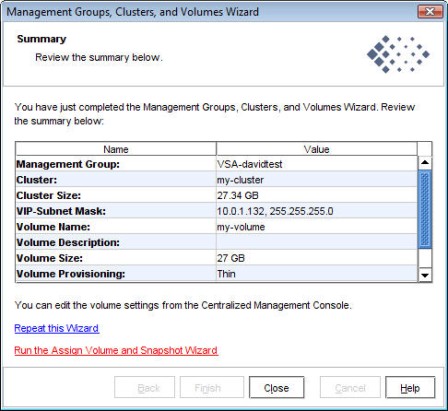 Notice the VIP and subnet mask. This is the IP address to use when you connect ESX Server to the iSCSI cluster.
12. As a final step, we need to add a new iSCSI-authorized server to our volume for security. To do so, I went to my new volume, then to the iSCSI Sessions tab, then to New Server. I gave the server the same name as my ESX server and entered the iSCSI initiator from my ESX server like this: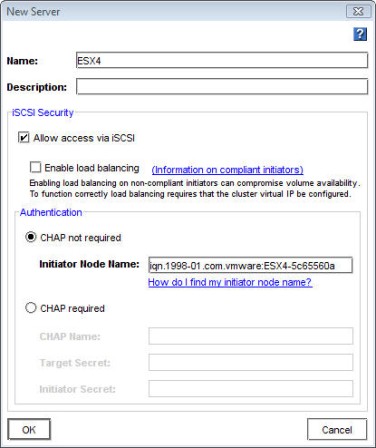 Then I assigned the volume to this new server with a checkbox. Now VMware ESX (and any iSCSI initiator that could use this new iSCSI target) can use VSA.
Installing a virtual storage appliance can benefit your system by providing a better allocation of resources and reducing costs. Here we've provided a step-by-step guide to installing LeftHand Network's VSA
In part two of this series, we will cover how to connect VMware ESX Server to LeftHand Networks VSA and use it as an iSCSI SAN.
ABOUT THE AUTHOR: David Davis (CCIE #9369, VCP, CWNA, MCSE, CISSP, Linux+, CEH) is the Director of Infrastructure at Train Signal, Inc. He has written hundreds of articles and six video training courses. His websites are HappyRouter.com and VMwareVideos.com .

Dig Deeper on Selecting storage and hardware for VMware environments