Installing VMware Tools: Believe the hype
Installing VMware Tools adds an eclectic mix of management and performance capabilities to a VMware infrastructure. There are only a few downsides, and it's free.
Installing VMware Tools can streamline VMware performance and management, and it's free. But before taking the...
Continue Reading This Article
Enjoy this article as well as all of our content, including E-Guides, news, tips and more.
leap, you should consider the installation and maintenance requirements.
VMware Tools isn't a single application but a set of drivers, services and user processes that's installed in a guest operating system. They add a wide assortment of functionality to VMware infrastructures -- everything from improving color depth and video resolution in the vSphere Client to memory optimization.
For these reasons, best practices call for installing VMware Tools on every virtual machine (VM) in VMware Infrastructure 3, vSphere 4 and Workstation infrastructures.
Installing VMware Tools: Pros and cons
Before installing VMware Tools, you should understand its pros and cons. VMware Tools' greatest benefits are the following:
Time sync between host and guest. VMware Tools can disable the Internet time sync for each VM, which can eliminate Network Time Protocol traffic and reduce network utilization.
More useful mouse. Installing VMware Tools allows the mouse to move between the VM guest console and the vSphere Client, so you won't have to press Ctrl+Alt to release the mouse anymore.
Memory optimization. The VMware Tools memory-ballooning driver can reclaim and shift memory among guest VMs, and it's one of the most valuable vSphere memory-optimization techniques -- especially when the host's memory is low.
On the other hand, the downsides to installing VMware Tools are the following:
Installation requirements. You have to install VMware Tools on every VM, which can be done manually (when you create new VMs) or automatically (when created from a template). You can also use VMware Update Manager to update groups of VMs.
Regardless of the method, it takes time to update VMware Tools throuhout an infrastructure, and admins don't need another administrative task. The biggest time sink isn't the update itself; rather, each VM usually needs to reboot after the new version of VMware Tools is installed.
Keeping it updated. Typically, an outdated version of VMware Tools doesn't have an immediate impact. But with every update to vSphere, you'll likely have to update VMware Tools on every virtual machine.
Installation difficulties. VMware Tools is easy to install on Windows but can be more challenging to install in certain Linux variants or on virtual appliances.
Security. Periodically, someone will raise security concerns about installing VMware Tools on secure machines, but these issues are unfounded. With Workstation and Fusion, VMware Tools gives you the option to share folders between a VM and PC. The fear is that if the host computer is compromised, all the guests could also be compromised. Conversely, if a single guest were compromised, the host and other guests could also be compromised because of the nature of virtualization. But that's not how it works. On top of that, shared folders are not possible in the vSphere Client for ESX and ESXi infrastructures.
These downsides can be a pain, but they don't outweigh the huge benefits of installing VMware Tools.
Installing VMware Tools step by step
The VMware Tools installation process varies, depending on your guest OS. Typically, installing VMware Tools involves mounting the ISO version that's specific to the guest OS, but you don't have to manually perform this step. In the vSphere Client, select VM > Guest > Install/Upgrade VMware Tools to mount the correct ISO file to the OS.
Figure 1
(Click image for an enlarged view.)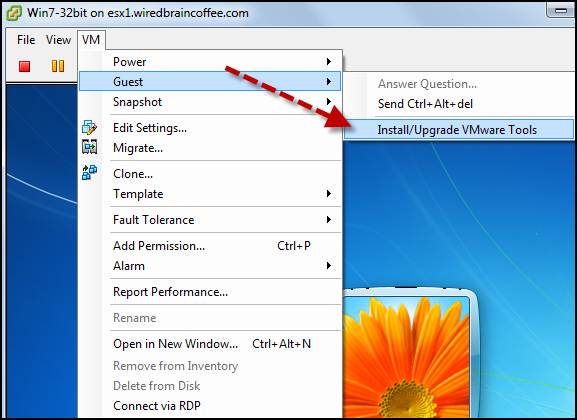 After installing VMware Tools, find its control panel in the Windows system tray. Here you can configure the tools, enable and disable Integrated Device Electronics, execute scripts to control applications in the VM, and more. And in the vSphere Client, you can see the VMware Tools status of a single VM by looking at the Summary tab.
Figure 2
(Click image for an enlarged view.)

It's one thing to know whether a VM is running VMware Tools, but it's more difficult to find out whether hundreds or thousands of VMs have VMware Tools or need upgrades.
To check the VMware Tools status among all VMs, go to the host and cluster inventory in the vSphere Client. Select the Datacenters or vCenter Server-level and click on the Virtual Machines tab. From here, you can sort the VMware Tools Status column and group VMs with the same status.
Figure 3
(Click image for an enlarged view.)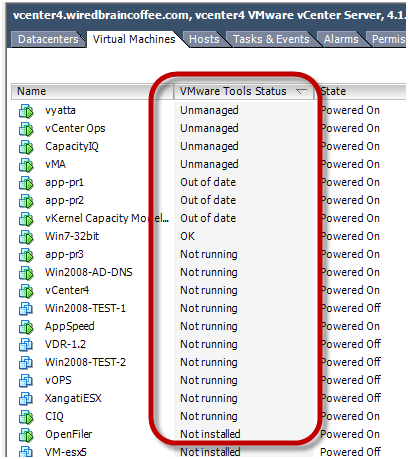 VMware Tools individually for each VM, but the best way is to use VMware Update Manager to update VMware Tools for multiple VMs. For more information on this method, read the VMware vCenter Update Manager Administration Guide (PDF).
More on improving VMware management and performance
VMware management and performance monitoring guide
Filling VMware vCenter Server management voids
VMware vSphere's built-in performance monitoring tools