Problem solve
Get help with specific problems with your technologies, process and projects.
Launching VMware ThinApps in View 4.5
Now VMware ThinApps can be launched from View 4.5 . This new feature simplifies application deployments, but it requires some front-end work.
With the latest releases, VMware improved the integration between View 4.5 and ThinApp 4.6. It's now possible to published virtualized applications, also known as ThinApps, through VMware's virtual desktop infrastructure.
With this new integration, you can also configure a dedicated file server to store ThinApps. From this central library, you can select which desktop pools receive ThinApps. This tip provides a comprehensive walkthrough on how publish VMware ThinApps in View 4.5.
Setting up the file server
Before you can launch ThinApps through View 4.5, you need to configure a file server, then copy the desired ThinApps to the share from the server. I used my View Transfer Server as a file server to save my lab environment virtual machines.
Note: When you share the ThinApp directory, add the Domain Computers group to the share and allocate read permissions.
Configuring the ThinApp repository
After you configure the file server, the next step is to set up the ThinApp repository.
In View Administration, select View Configuration.
Select ThinApp Configuration.
On the Add Replication Repository page, type a friendly name for the ThinApp repository (e.g., Corp Application Repository), followed by a UNC path to the file server, which will store your ThinApps.
Click the Save button.
Adding ThinApps into View Server
The next phase is to set the View Connection Servers to scan for ThinApps in the repository.
In View Administrator, select Inventory.
Select the ThinApps node, and then click the "Scan new ThinApps…" button.
In the "Scan New ThinApps…" dialog box, navigate to the Application repository dropdown list. Select the share location that was just configured. Next, click the Scan button

Figure 3
I have different ThinApps in the shared location. As an example, I packaged and uploaded other applications to the repository. This step will help when I create Application Groups. (Click image for an enlarged view.)


In the next dialog box, select the discovered ThinApps. Click the Finish button to import them into the View environment.

Figure 4
The "Show ThinApps already in the system option" displays ThinApps that already completed this process. By default, the scan process ignores generic .msi files that may not pertain to ThinApps. But if you'd like to see these files, select "Show invalid MSI files." (Click image for an enlarged view.)

Entitling a ThinApp to a desktop pool through an Application Group
There are several ways to entitle ThinApp applications to users. If you have many virtualized applications, you can create groups of ThinApps and assign them to pools of desktops. It's possible to assign ThinApps to the following categories:
Desktops. This option is useful for dedicated pools when one user needs a particular application outside of the predetermined group programs.
Pools. This method is useful for building standard desktops with standard applications.
Application Group, which contains multiple ThinApps. This grouping is the most efficient method of entitling applications to a desktop or pool.
With each method, you can run a ThinApp locally (which VMware calls a full install) or stream it from the repository file share. The full installation is supported only for dedicated" pool types, which is the sticky" format where users grab a virtual desktop from the pool to work on. Each time they log in, they return to the same virtual desktop.
How to assign a ThinApp to a category
Follow these steps to assign ThinApps to desktop pools:
In the ThinApps node, below the "Scan new ThinApps…" button, select the "New Group…" button.
Type in a new group name (e.g., Accounts ThinApp Group), and click Add.
In the list, select a ThinApp. Then, click the Add-> button.

Figure 5
Unfortunately, this dialog box does not support multiple selections with shift+click or ctrl+click. (Click image for an enlarged view.)


After the ThinApp Application Group is set up, you can entitle the group of applications to a pool. Select the Application Group, and click the "Add Entitlements" button. Then, select Pools from the list.
In the "Entitle Pools to Group" dialog box, click the Find button, and select the pool that you want to add to the group. Then select the installation type based on your preferences and click OK.
When Full is chosen and an application is installed using the .msiI file that was created in the ThinApp build process, end users see a pop-up message near the Windows tray location. Shortcuts will appear on the Start menu, and the ThinApps are copied to the C:\Program Files location with the label (VMware ThinApp) in the directory name.
By default, the ThinApp installation process creates shortcuts on the user's desktop. If you impose rigorous folder redirection policies using Microsoft Group Policies, however, the shortcut creations will fail. Instead, you must manually set up the shortcuts.
When I logged in as a local administrator to test a virtual desktop, I copied the shortcuts to a shared folder redirection location.
Figure 8
(Click image for an enlarged view.)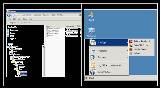 Conclusions
As you can see, VMware View and ThinApp are better integrated. It's a relief that VMware finally offers its application deployment method to its virtual desktop product.
View 4.5 and ThinApp 4.6 received a huge facelift, but both platforms are still missing some functionality -- especially ThinApp. I would like ThinApp to gain a proper management user interface for virtualized applications, so users can hold applications in a library or project window. Right now, each ThinApp resides in a directory, surrounded by .ini files, which can be edited to change their functionality. This process can be combined with scripts to rebuild ThinApps and make your changes effective.
Also, I would like to see some advanced .ini settings integrated into the graphical user interface and an option that monitors and rebuilds ThinApp changes. Additionally, I want VMware to produce an agent or receiver that sits (virtually or physically) in the guest operating system.
Finally, while the new integration works great for ThinApps in virtual desktops, it doesn't address the deployment issues for users that run Windows on a physical box.
| | |
| --- | --- |
| | Mike Laverick (VCP) has been involved with the VMware community since 2003. Laverick is a VMware forum moderator and member of the London VMware User Group Steering Committee. Laverick is the owner and author of the virtualization website and blog RTFM Education, where he publishes free guides and utilities aimed at VMware ESX/VirtualCenter users, and has recently joined SearchVMware.com as an Editor at Large. In 2009, Laverick received the VMware vExpert award and helped found the Irish and Scottish VMware user groups. Laverick has had books published on VMware Virtual Infrastructure 3, VMware vSphere4 and VMware Site Recovery Manager. |