Need directions for the VMware certification roadmap?
What do you need to do if you are already certified and want to update your qualifications in light of the recent changes by VMware?
It's been an eventful year for VMware thus far with the release of vSphere 6, but there has also been quite a bit...
Continue Reading This Article
Enjoy this article as well as all of our content, including E-Guides, news, tips and more.
of change happening to the VMware certification roadmap. The first phase started with the new version 6 VCP-DCV (data center virtualization) and the other phases will be rolled out during the next few months. For some this is good news, but there is a group of students that might be not so happy.
Bad news for the VCAP students
As shown in the chart from VMware, anyone pursuing the higher level VMware Certified Advanced Professional (VCAP) in either the design or administration track for desktop or cloud will have some concerns. While these two tracks are currently in place for the data center track, they were retired for desktop and cloud on March 2.
Those who had attended training or were studying for one of these exams in the past few months will now have to put their certification schedule on hold and wait for the new VMware Certified Implementation Expert (VCIX) to become available.
I have spoken to several students who had invested time already in these tracks and now are facing a period of months where they can't take an exam and have to begin studying again for the new version. It wouldn't have been a big issue had VMware announced these changes six months ago; but they made the decision in February to retire the exams on March 2. They didn't make a lot of friends with this decision.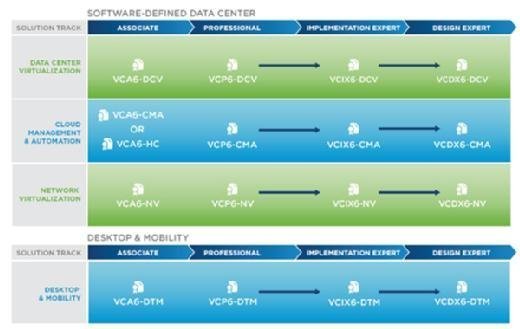 The change benefits VCP students
On the other hand, the new certification roadmap will benefit another group of students: Those who want to achieve multiple VCP certifications. In the previous system, each VCP exam consisted of 135 questions. After obtaining VCP-DCV status and demonstrating vSphere knowledge, if a student wanted the VCP desktop or cloud status, then the student would need to answer more vSphere-related questions during the exam.
This made sense for those who only took the desktop or cloud exam, but if they took multiple versions of these exams it became a difficult challenge. VMware changed things so that now there is a vSphere Foundations Exam to be followed by another that focuses on a student's area of expertise: data center virtualization or desktop, cloud or network virtualization.
What isn't new: VMware Certified Associate
The certification at the bottom of all tracks, VMware Certified Associate (VCA), will also be available in a new version 6, but excepting the content of the exams, the certification will not change. The VCA can be valuable for those that want to learn about VMware products without getting into a technical deep dive. With a VCA certification, one can demonstrate knowledge about how VMware products can be used and what the use cases are.
If you are already VCP certified
First, a disclaimer is necessary. I have used the official VMware Education Web page as my source and believe you should always verify the current status of the certification tracks. This is because it's possible VMware could make additional changes to the certification tracks after this article has been published.
For VCP6-DCV certification: If you hold a current VCP certification in any track you have two choices: the VCP6-DCV delta exam or the full VCP6-DCV exam. The best choice is the delta exam because it requires less effort -- 75 questions as compared to the full 100 question exam. In the current beta phase, the price of both exams is the same but that could change when they become generally available. There's a chance the delta exam could be priced lower than the full version. But be aware the delta exam will most likely be available for a limited amount of time. It will not be removed in the next few months, but I would not be surprised if VMware removes it by the end of 2015.
If you have a current VCP, then attending a course is not required but recommended, as there is a new vSphere 5.5 to vSphere 6 course that covers the new version's features.
To become VCP6 certified in cloud, network virtualization or desktop: If you hold a current VCP in any of the tracks, then you won't have to take the vSphere Foundations Exam. You can instead go straight to the specialized exam for becoming certified in your area of expertise. There is no course requirement.
Going beyond the VCP level
In the previous track, VCAP status was available in both design and administration. That has been superseded by VCIX, which is now available in the network virtualization track. VCIX will then roll out to the remaining tracks later this year. I expect this to be completed by August or September. VMware said it will require passing two exams -- in design and administration.
Anyone who has spent a full day taking lengthy exams should not be afraid of these tests. The design exam has been shortened from 3.5 hours to 2 hours, and there are plans to allow you to take the administration exam from your home or office while being proctored via camera. This would save a lot of time in traveling to designated testing centers, which is currently required for these high-level exams. We will have to wait for the official announcement; but be sure to sign up for the newsletter on the certification Web site to get notices of when the new exams become available.
The new VCIX track requires two exams and for those who have already completed one of the previous VCAP exams, they would only have to take the other exam. For example, if you are a VCAP-DCA, then you need to pass the new VCIX-DCD exam to achieve the new certification.
What hasn't changed is the VMware Certified Design Expert (VCDX). It will be updated for the new version 6, but the track required to achieve this certification -- by presenting and defending a design -- will remain the same.
If you have not been certified or if your certification has expired
VMware announced a recertification policy in 2013; that if a VCP certified individual's status has expired, they then fall into the same category as someone who has not obtained a VMware certification. The recertification policy requires VCP holders to pass a second exam within two years after passing the first. This could be an exam for either a newer version or one in another track. So if you were to become VCP6-DCV certified today, you could pass the desktop exam within two years and, on that date, another two year period for taking the second exam would begin.
For those that are not certified, attending a course is a requirement. If you let your VCP status expire, then you will need to retake a course; i.e., one in the field in which you want to be certified. For a desktop VCP status, you will need to attend a Horizon View course. Once you attend a course and get certified, you are not (yet) required to take an exam in another track.
Many think that attending the five-day "Install Configure Manage" course is the only one available for VCP-DCV status, but in reality, that changed many years ago. If you are an experienced administrator, you are far better off attending any of the more advanced classes that count towards the course requirement. These include the "Optimize and Scale" or "Design and Deploy" courses, which have been announced but are not yet available.
If you attended a version 5 course but did not yet pass the version 5 exam: Your option is to attend the v5.5 to v6 "What's New" course and pass the version 6 exam to become VCP6-DCV certified.
A very common misconception students have is that because a course is a requirement, it does -- and should -- cover all the exam topics. That is not true. There is a list of exam objectives with concepts you need to study and while the courses cover many topics, there still might be others you will need to learn, depending on which course you have taken.
When your course requirement is achieved, you can then start studying and prepare for the two exams you need to pass: the vSphere Foundations Exam and one of the four exams matching the track in which you want to certify.
Next Steps
The right VMware certification path for you
Boost your resume by embarking on the VMware certification path
Becoming a VMware Certified Associate
Dig Deeper on VMware new releases and updates