ra2 studio - Fotolia
New features help VMware Horizon Client take step forward
Just-in-Time desktops and VMware Instant Clone are two features that make Horizon 7 attractive to users.
VMware has been pushing the idea of running your application on any device over the past few years. Year after...
Continue Reading This Article
Enjoy this article as well as all of our content, including E-Guides, news, tips and more.
year, every VMworld dedicates a very large chunk of time to coverage of the IT transformation that allows admins to focus on users' experiences and on the users' applications. VMware Horizon View 7 and VMware Horizon Client 4.x are part of that transformation.
VMware Horizon Client 4 sits at the client side, but when you use multiple devices -- phone, tablet, laptop/desktop -- that run different operating systems, your experience may vary. The reason is because not every VMware Horizon Client offers the same user experience with a fixed set of features. In this article, I'll try to detail some of the differences and try to get as many details as possible to bring you a good overview of what the latest VMware Horizon Client 4.x has brought.
The latest version of Horizon Client is 4.2 debuted in September 2016. The software has regular updates on a bi-monthly basis so this article brings the latest info at this point in time, but other enhancements will most likely be added as time goes on. Let's start with some important features with VMware Horizon 7, which was accompanied by VMware Horizon Client 4.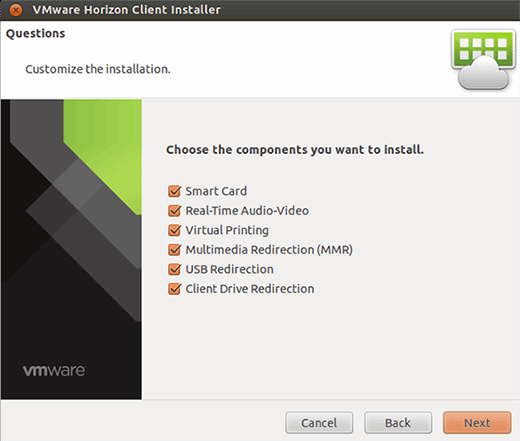 Blast Extreme Protocol is a new protocol that plays a big role, side by side with PC over IP (PCoIP), which historically has been the one privileged over the traditional Remote Desktop Protocol. But PCoIP wasn't tailored to VMware's products, but rather a protocol invented and owned by Teradici. PCoIP simply transfers the image of software running on a central server or workstation to any PCoIP-ready end-point.
It is the central source that does all the heavy-lifting -- the graphic processing. It compresses, encrypts and rapidly transports image pixels to PCoIP end-user devices. The clients then decrypt, decompress and display the image on a screen.
Horizon Blast Extreme, however, needs just your browser -- no Horizon Client installation is needed. This is an advantage on devices where you did not have a possibility to install Horizon Client software. The golden image VM in your data center has to have the component installed and administrator of the Horizon infrastructure has to enable the desktop pool for HTML access.
Just-In-Time desktops -- Horizon 7
VMware Horizon 7.0 was a major release -- a revolution in terms of refreshing and cloning desktops if you ask me. The old legacy cloning we've known for a decade became obsolete.
With Just-in-Time desktops -- where Composer Server is no longer necessary to do a time-consuming operations like recomposing, rebalancing or refreshing virtual desktops every time you update your base image -- you can deliver desktops to your users within seconds. VMware Instant Clone, sometimes known as VMFork, allows admins to clone a VM in seconds, which I think is a game changer.
But how exactly does Instant Clone work? It takes a running desktop, boots it up and just before joining to the Microsoft Domain, copies memory pointers instead of copying entire disks and memory from a VM. After this copy is done, you can customize the OS for the user, renaming/joining to domain and so on.
This process allows admins to quickly create nonpersistent desktops which are destroyed when a user logs off. Another advantage comes when a user gets malware during his session -- the malware is destroyed when the user logs off. Just-In-Time desktops save some significant storage and compute resources and avoid boot storms.
But let's get back to the VMware Horizon View 4.x client. There are different architectures supported and different software versions of the client for backward compatibility, as there are still admins using older versions of Horizon View.

It is quite important to follow the VMware updates because they don't always release all updates to all OS versions at the same time. For example, Horizon View Client has options for Mac, Linux, iOS and Windows -- but not for Android.
Important features of VMware Horizon Client 4.x
There are a lot of features to list, but these are the most important and prominent ones in my opinion. I mentioned Blast Extreme Protocol earlier; it's not exactly a part of the client side, but plays a significant role within the Horizon 7 suite. Users only need a web browser to access the virtual desktop there is alsolower requirements on bandwidth.
Admins can leverage a graphics processing unit (GPU) on the client to get the better battery life; use the GPU within the client's laptop to decode video, instead of wasting CPU cycles on it. VMware Horizon Client 4.x also offers a scaled screen resolution option for high DPI clients which allows better readability.
Another feature is admins are able to auto share USB drivers with Client Drive Redirection (CDR). Horizon 7 also provides up to four times faster printing via Horizon 7. This means printing a large document will take much less time.
Other features include:
Performance increase -- Up to 50% more performant over WAN, through security server, for Client Drive Redirection and USB;
Updated OpenSSL and TLS;
Horizon Client 4.x Supported on Windows Server 2012 -- Until now it was supported only on W7, W8.1 and W10;
Mac client -- Works with split view in OS X El Capitan;
HTML Access -- Now supports Linux desktops, which are now present for users willing to provide Linux desktop VMs to the users; and
Horizon for Linux.
Users still have a choice of configuration -- they can select the VMware Blast Extreme display protocol when they connect to a remote desktop or application in Horizon Client, and can configure decoding and network protocol options for VMware Blast sessions.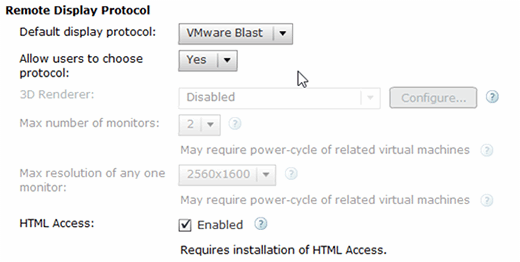 Administrators can create VMware-view URLs to launch a remote desktop or application with the VMware Blast display protocol. This feature also requires Horizon Agent 7.0 -- installed within the desktop VM in your data center.
Another interesting fact concerning the protocols is that when you have multiple monitors, you can use the Use Single Display in Full Screen option to make a remote desktop fill only one monitor. With this option, the monitors do not have to be in the same mode. For example, if you are using a laptop connected to an external monitor, the external monitor can be in portrait mode or landscape mode.
With the latest version of VMware Horizon Client -- Horizon Client 4.2 -- together with the latest version of Horizon 7 you can use encryption. If VMware Blast Extreme is enabled, files and folders are transferred across a virtual channel with encryption.
Dig Deeper on Working with VMware View