Manage
Learn to apply best practices and optimize your operations.
Pacifying end users with vCenter Operations Manager for View
To keep end users happy, vCenter Operations Manager for View can help you troubleshoot virtual desktop infrastructure problems and more efficiently assign hardware resources.
Building on the success of two of its most popular products, VMware recently released vCenter Operations Manager...
Continue Reading This Article
Enjoy this article as well as all of our content, including E-Guides, news, tips and more.
for View, an add-on tool for analyzing and improving virtual desktop performance. This product is implemented as an adapter within vCenter Operations Manager Enterprise 5.0.1 or newer, and uses learning analytics to monitor a View 5.0, or newer, environment.
VCenter Operations Manager for View monitors the end-to-end user experience within a View environment, which was a major gap in VMware's product line. The vCenter Operations Manager's analytical engine calculates the normal operating range of several, key metrics, such as bandwidth use and latency, based on historical values. It can then provide a health status and generate alerts by comparing current values to these calculated ranges.
In addition to utilizing vCenter Operations Manager's analytics engine, the add-on will also utilize the capacity analysis capabilities to help manage a View infrastructure. That feature provides a view into the future by analyzing what will cause your next performance bottleneck, and when it is likely to occur.
Installing the View adapter and viewing metrics
Implementing the View adapter requires a 64-bit version of Windows 2003 R2 or Windows 2008 R2 and the vApp version of vCenter Operations Manager. The installation process begins with Windows Installer, followed by a configuration utility that includes an unusually well documented interface and test functionality for almost all the settings. Once you have installed the adapter, you must register it in the vCenter Operations Manager admin interface using the update feature in vCenter Operations Manager Enterprise.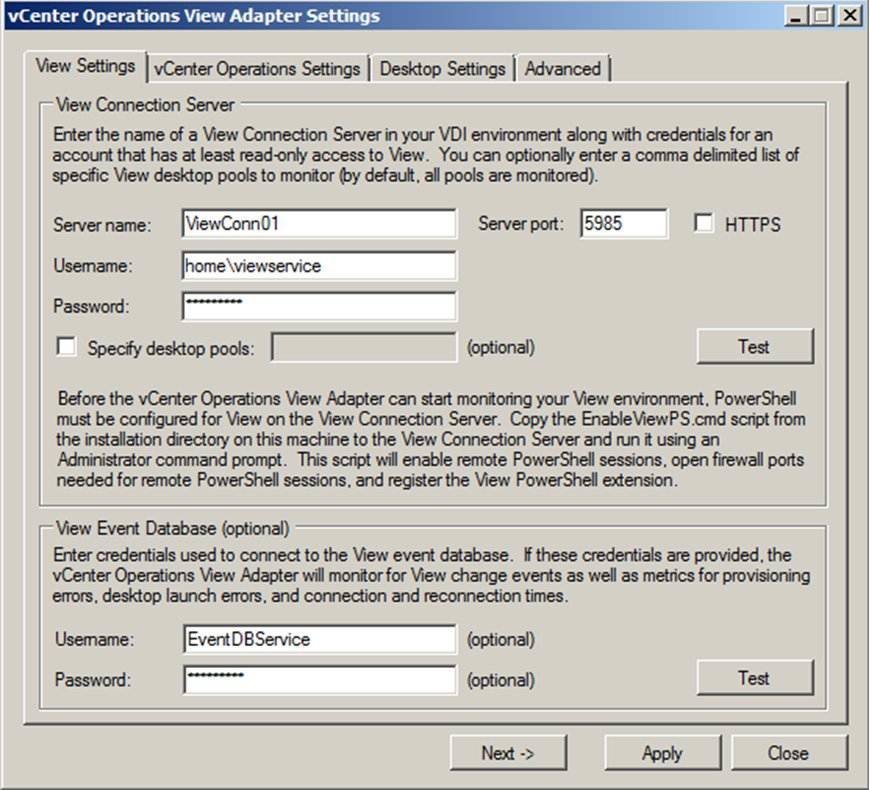 vCenter Operations for View adapter settings
Once registered, the View adapter pulls topology information via PowerShell from the View Connection Server, gathers configuration changes and events from the View Events Database and metrics from the desktop virtual machines (VMs) via the Windows Management Interface (WMI) and Remote Registry service. All of this data is then entered into the vCenter Operations Manager database.
VMware has worked with the Teradici Corporation (the company that licenses the PC over IP protocol to VMware for View) to introduce several metrics into the PCoIP display protocol. These metrics include values related to image quality, round trip latency, packet loss percentage and bandwidth utilization.
Analyzing these metrics can reveal a variety of issues, which include the following:
a loss of image quality;
slow or poor quality connection between the user and their desktop;
when bandwidth is being poorly utilized; or
other problems with the user's connection.
The WMI calls, mentioned earlier, retrieve these metrics, and the View adapter uses them to calculate a health status for the user experience. Evaluating these metrics, along with metrics of the vSphere environment itself, can quickly shine a light onto the component that may be negatively affecting the end-user experience.
Using dashboards within vCenter Operations Manager for View
A new set of seven dashboards, including View Top Sessions, View Top Desktop VMs and View Desktop Sessions, are loaded into vCenter Operations Manager as well as widgets that can be used to produce custom dashboards. The View metrics are available only in the Custom Dashboard section, and not in the main interface. Using these custom dashboards, View administrators can easily get informative that will provide completely new perspective into the performance of the View environment.
One of the default dashboards, View Users, is designed specifically for troubleshooting user complaints. This dashboard can drill down through all the layers of a View environment to identify a problem. It starts with selecting a user session, which then displays a health tree of all the components that make up the selected session. Selecting any one of those components will display metrics and event changes related to that component.
Overall, the View adapter for vCenter Operations Manager is an invaluable and much anticipated tool for View administrators to manage the performance of their environment.
Dig Deeper on Working with VMware View